Post by StevePulaski on Jan 15, 2011 23:43:11 GMT -5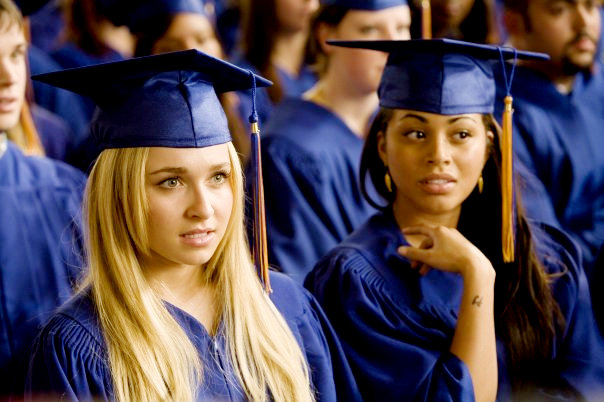 Beth Cooper shocked after the big announcement in
I Love You, Beth Cooper
.
Rating: ★½
"I'm thinking of films that remember what it's like to be a teenager with a hopeless love. Almost Famous, Lucas, Say Anything, The Man in the Moon. If I were a filmmaker like Chris Columbus, who has directed two of the Harry Potter films, I don't know if I'd bother with this genre unless I felt I could make a film aspiring to that kind of stature."
- Roger Ebert's review of
I Love You, Beth Cooper
.
I Love You, Beth Cooper
is nothing but a barrage or stereotypical gay jokes that are toned down to match it's PG-13 rating. It's not cute, clever, or funny to keep calling someone gay after they deny it consistently. It just isn't. To keep resurrecting the same joke over and over again just shows how little this movie had to work with. Director Chris Columbus directed some of my favorites like
Home Alone
and it's sequel. He also is the one behind most of
The Harry Potter
franchise. To have this on his filmography is about the same level of embarrassment it is to have
Christmas With the Kranks
on there.
The movie had potential to be a very funny, and actually somewhat of a sweet romantic film. The plot follows a High School grad named Denis (Rust) who confesses his love to his dream-girl Beth (Panettiere) during his valedictorian speech. He also addresses a plethora of others that gave him hell in High School, and basically becomes one of the bravest nerds I've seen in a film. Beth finds Denis' actions to be "sweet", and he invites her over to a "party" at his house.
Upon arriving to the "party" which is all about Denis and his pal Rick (Carpenter) trying to "cop a feel" with Beth and her friends, Beth takes Denis out for the night of his life. They break into a school, buy beer, and do all sorts of illegal things as the night goes on. All of which are tiresome, common rom-com movie cliches that do nothing to make this film original or memorable.
The film doesn't know when to stop as well. I mentioned the nonstop homosexual jokes in the beginning, but this film needs to be taught human nature. Why is being gay such a taboo thing for movies to frown upon? I bet these actors aren't really raging homophobes in real life, but why is it necessary for them to rag on a specific group of harmless people in a movie about teenagers? I can name at least ten teen films that didn't mention the words "fag" or "gay" and are hilarious films. I don't think John Hughes gave his actors the right a way to talk down about people like that. He was much more grown and thought over his movies more carefully than who ever wrote this.
The movie goes above and beyond the limit of just being unfunny, it also manages to throw together the most unrealistic and flat out dumbest events I've ever seen in a teen movie.
License to Drive
was over the top, but that wasn't based on a true story like this is claiming to be. When would you see a girl drive an SUV into a house to stop a fight. Let alone not getting caught by the invisible neighbors or having one of the party people call the cops on these kids?
I Love You, Beth Cooper
is barely a love story. It's an over the top, stereotypical mess that should not have been made. Every scene could've been done better, and has been since teen movies have set foot on this planet. Nothing is original, inspired, clever, or funny. Not a damn thing.
Starring: Hayden Panettiere, Paul Rust, Jack T. Carpenter, Lauren London, and Lauren Storm. Directed by: Chris Columbus.