Post by StevePulaski on May 29, 2011 8:28:04 GMT -5
After about a month of solid procrastination, I'm back to try and finish this list over the Memorial Day weekend. I have been trying to think of my favorites because they constantly change. But below is the list I'll go with.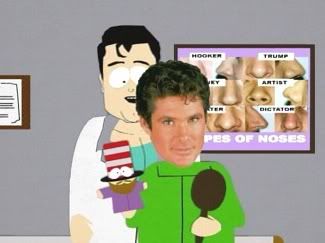 1.
Tom's Rhinoplasty
Episode: Season 1, Episode 11.
Written and Directed by: Trey Parker.
Original air date: February 11, 1998.
Tom's Rhinoplasty
is more or less my favorite because it was one of the first
South Park
episodes I had watched. I remember laughing out loud to this one, understanding the references an eight year old, my age at the time, wouldn't understand. The very first episode of the show I watched was probably around eight as well. The episode was
Bebe's Boobs Destroy Society
. I remember laughing at that too, and my mom coming in an yelling at me the same way she did when she found out I was purposely staying up late to watch more
Beavis and Butthead
episodes when I told her they were "the previews to the next episode". You could tell I watched too much TV since that is from
Survivor
.
Moving along, the episode timeline is right around Valentine's Day. Wendy is content on the fact that her and Stan will spend a lot of time together. But when the teacher Mr. Garrison goes to get a Rhinoplasty, substitute teacher Ms. Ellen shows up at the school. Ms. Ellen is a gorgeous sole who wins the heart of others in the class, including Stan. The boys go ga-ga over her, while the women are extremely annoyed. Which leads Bebe to say a hilarious line in the episode; "You guys are so immature. Act like eight year olds!"
The episode is my favorite not only because it was one of the earliest episodes that I saw, but it's true
South Park
humor. In the commentary, it's noted the whole joke is because the characters are cute, but come off in a crude way. Plus the joke with David Hasselhoff's face being put over Mr. Garrison is in true
South Park
wit as well.
Tom's Rhinoplasty
is very underrated in the
South Park
world, but it's never overlooked by me.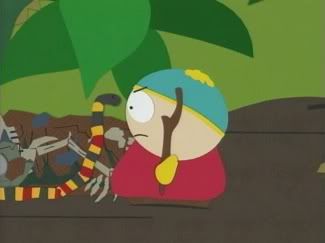 2.
Rainforest Shmainforest
Episode: Season 3, Episode 1.
Written by: Trey Parker and Matt Stone.
Directed by: Trey Parker.
Original air date: April 7, 1999.
Environmental activists, no matter which ones, can always be spoofed in pretty much any TV show.
South Park
obviously wanted to chose a specific type of activist and they chose the ones against removal of rainforests. This episode is absolutely hilarious as it involves the third grade class going to a rainforest with Miss Stevens (Aniston). Miss Stevens will have the class put on a show at the end called "Getting Gay with Kids" where she has them lip sync about saving rainforests.
Besides the upfront parody of activists, I love how the episode constantly has some form of Cartman completely trashing the rainforests and having the teacher stop him. Everything he says in the episode is true about the Puerto Ricans being very dirty people and having him step off the bus and say "Oh my God, it smells like ass out 'naw." Everything in the episode is true and everything in the episode is funny. From the gang getting lost, to the lip syncing is all a riot.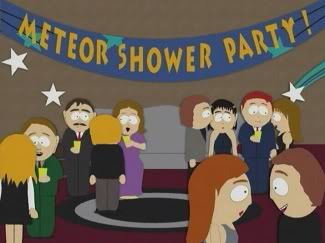 3.
Two Guys Naked in a Hot Tub
Episode: Season 3, Episode 8.
Written by: Trey Parker, Matt Stone, and David Goodman.
Directed by: Trey Parker.
Original air date: July 21, 1999.
When I saw
Two Guys Naked in a Hot Tub
(haha) I was over at a friend's house with my mom and dad. I remember being up in my friend's room channel surfing when we stumbled upon what I believe was channel 42 (Comedy Central, at that time). We saw
South Park
and this episode was playing. Now we were badass.
Watching
South Park
around age ten was a dream come true for me. I was starting to watch whatever I wanted, but I had to keep somethings like
American Pie
and
South Park
secluded. My mom usually let me watch any slasher film I wanted to, but somethings were "off limits." So in order to watch a lot of the stuff I've seen around ages eight to eleven, I had to watch it some sort of secretive way.
When we were in the middle of watching this my dad walked in and was furious. Fortunately, his presence wasn't long and after he left, we continued to watch the episode. It wasn't until about two and a half years later that I realized that this was part two of a three part series. Part one being the episode
Cat Orgy
and part three being
Jewbilee
. I really enjoyed part one, but didn't find too much exciting or worth remembering in part three.
Besides the memories I have of this episode,
Two Guys Naked in a Hot Tub
kind of brings that feeling back to me of when I was too young to be with the adults and usually the kids would all hang out in the basement. That would happen a lot when I went by my aunt's house. Her two kids, a few others, and myself would all be in the basement. I somehow felt superior to all them like I didn't belong there. I felt mature enough to be out there and talking. This episode has a lot of memories for me. Relatable memories and real life memory.
4.
The Entity
Episode: Season 5, Episode 11.
Written and Directed by: Trey Parker.
Original air date: November 21, 2001.
The Entity
is by far one of the funniest
South Park
episodes. Kyle's cousin, Kyle Schwartz, comes to visit him and winds up becoming the favorite in the household. The other Kyle becomes Kyle 2 and is frustrated with being pushed to the side. Cartman, Stan, Kenny, and himself all try to get rid of Kyle by tying him to the back of a bus and putting him in a box mailing him to Connecticut. But he always finds ways to say "I'm back!"
The funniest part of the episode is the fact that Kyle's cousin is the biggest pansy on the planet. He always complains, is super sensitive to everything, and has more problems in life than anyone. Every time I watch this episode I find a new funny part. The lines Kyle says stay with you, and you find yourself thinking about them some place else and laughing to yourself like an idiot. The power of
South Park
.
5.
The Return of the Fellowship of the Ring to the Two Towers
Episode: Season 6, Episode 13.
Written and Directed by: Trey Parker.
Original air date: November 13, 2002.
I think anybody who is constructing a list of favorite
South Park
episodes has this one on their list of favorites. This one is a classic example of kids not knowing any better and having their own little, what they believe to be, playful fun.
Finish Later.