Post by StevePulaski on Jul 29, 2011 14:48:19 GMT -5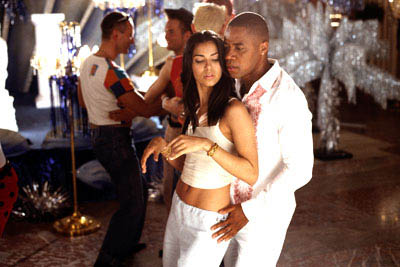 Roselyn Sanchez and Cuba Gooding Jr. in
Boat Trip
.
Rating: ★
Watching
Boat Trip
, I couldn't help but remember the 1991 John Singleton masterpiece
Boyz N the Hood
which started a much younger, and much better, Cuba Gooding Jr. In that film he was affectionate, passionate, and soft-spoken. In this, he's pathetic, under-developed, and is out to get the cheapest laughs with his bumbling sidekick Horatio Sanz.
Apparently, upon the release of this film homosexuals were outraged by the film's content and stereotypes. Being heterosexual in this film, obviously, nothing offended me, but this whole film is one big giant homophobic piece of film. In one scene, Sanz's character actually tells his friend that he is worried about befriending gays like it's some sort of sin to be friends with a homosexual. I love this way this film treats humans like they're inhumane.
The plot: Jerry (Gooding Jr.) is recently dumped by his girlfriend (Fox), and his buddy Nick (Sanz) hates seeming him depressed. So, Nick wants to take him on this cruise with all the women a guy can imagine, sort of like a getaway from modern day life. After upsetting one of the employees at the travel agency (Lange), a close friend of the employee (Ferrell) books them on a gay-cruise for revenge.
Upon arrival to this cruise, Jerry and Nick are the densest people out there if they can't tell this is a gay cruise. You'd think with all the men, some in assless-chaps and some dressed for role playing, they'd find something is up right before boarding. Also, there is a big banner stating this is a gay cruise. Not to mention, when they get on board it takes them a good five minutes before they realize it's not what they think it is. They keep trying to make lame excuses why they see men walking around in black leather and chains (another HUGE stereotype) almost like deep-down they know it is a gay cruise, but can't admit to the audience.
The men find out, panic like hell, and then go out and about trying to find entertainment. Jerry finds a choreographer named Gabriella (Sanchez) who he falls in love with. The thing is, she can't trust a straight man because of how many times she's been hurt. So now Jerry wants to pretend to be gay so she can open up to her. But Jerry's homosexuality is sometimes purely fake, and isn't this women supposed to be a choreographer? Can't she spot a straight man when she sees one?
Lucky for Nick, The Swedish Tan Team was picked up on the boat and now he is kept interested in a strangely obtrusive sub-plot that lacks purpose, laughs, or anything resembling comedy.
Boat Trip
is loathsome and absolutely not funny. It offends gays, it offends straights, it offends comedy, and it offends pretty much everyone and everything else. The difference between this and an episode of
South Park
is at least
South Park
has a sort of sunny disposition to it. It's a lot more entertaining than this for one thing, but it also has a certain art of comedy and an art of writing that was completely ignored in this film.
I am positive that no filmmaker or any cast or crew-member waltzes on set one day saying "we're going to make a horrible, horrible film." But with
Boat Trip
, my jaw would drop if they said "we are going to make a very funny film."
Starring: Cuba Gooding Jr, Horatio Sanz, Vivica A. Fox, and Roselyn Sanchez.