Post by StevePulaski on Jan 21, 2012 17:43:41 GMT -5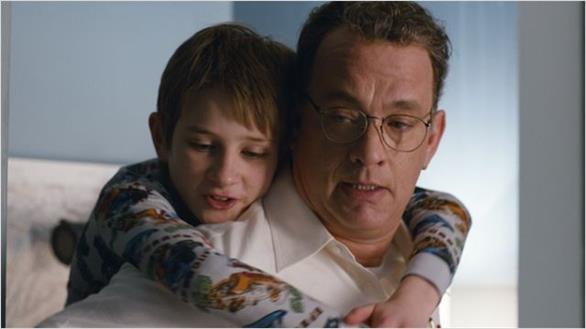 Thomas Horn and Tom Hanks.
Rating: ★★
It would've given me great pleasure to call
Extremely Loud and Incredibly Close
a superb tear-jerker that comes off as unique, visually intelligent, soft-spoken, and enjoyable. Sadly, it barely gets by with everything it has. This is a mediocre melodrama, filled with artificial sentimentality and poorly structured caricatures, completely defying the whole point and purpose of the film.
Let's start with the premise, which in retrospect isn't that bad. A boy named Oskar (Horn), who apparently suffers from some sort of unconfirmed disorder, has had a rough boyhood. From being teased at school, to tormented by personal demons affected by his disease. His father (Hanks) tries to cheer up and excite his son by playing a game they call "Reconnaissance Mission," where he will give him all sorts of clues that he can search for.
Oskar winds up losing his father in the 2001 terrorist attacks in New York. His mother (Bullock) is beside herself, while Oskar is searching for the most impossible of answers. In the meantime, while searching through his father's room, he stumbles across a key in an envelope marked "Black." Desperate for answers and anticipating its lock holds secrets about his father, he tracks down and visits every person with the last name "Black" in New York City.
Along the way he befriends a mute, mysterious elderly man played surprisingly very well by Max Von Sydow. For an actor known for his iconic voice talents, he does pretty well with emotionless facial expressions and his presence offers an untold amount of conversations and possibilities with Oskar.
The first problem is Oskar himself. Remember that kiddy show
Caillou
, about the four year old bald kid who would whine, complain, and question everything around him? He has now been adapted into a live action movie. Oskar at times is frustratingly tedious and insufferable beyond belief. His smart tone, selfish remarks, and his endless voiceovers become unforgivable even though we are clearly aware of his disease. I'm not sure it's Thomas Horn's fault or just that the character is so unlikable and cloying in his current form. He is left to carry so much weight of the film on his back that any child actor would've struggled greatly with. Bottom line - making a protagonist, especially a child, with an unknown disease is challenging, but here it is extremely monotonous and incredibly overdone.
Emotions are contrived in the film. There are so many parts where the film just wants to make us upset, blue, and tear up. The melancholy feeling works in some parts, but no real tears are shed. Mainly because it is spelled out rather than subtle. When discussing the father's death in one scene, the good ol' "I wish it was you" line is dropped, but the line felt a better, more emotional presence in
Stand By Me
. It was unexpected and unbelievably disheartening, but more important, it was an honest remark. It's used here as an impulse tactic.
I think the final nail in the coffin is the film's failure to do its main goal; shed light on characters who have the same last name yet different, more diverse problems. The characters we meet are shown mainly in flashbacks and montages, which defeats the entire purpose of creating the journey in the first place. The end drops a sort of unbelievable twist that we can't necessarily believe unless we would've seen some more visits. If we had been invited to more visits with the characters, the twist would've been more of an "oh, okay" moment rather than a "what?" The few characters we meet are played by
The Help
's Viola Davis and Jeffrey Wright, involved in scenes far too short and underdeveloped. If you're going to make a film about a character who is visiting many people with the same last name, instead of zipping by those people, why not pause for a bit and stay awhile? Let us learn more about them and see if their problems of losing a loved one could be parallel to our protagonists'.
Tom Hanks is great in the few scenes he is in, but for some reason Sandra Bullock, an actress finally doing some of her best work in recent films, gets the biggest caricature of all. She is an empty mother, with no substance or depth usually left looking like a rag-doll and being more forgiving of her son than she ought to be. Why give two amazing actors very small roles in a film? Did the father really need to be played by an actor of Tom Hanks' status? Did it really matter since we hardly saw him?
Extremely Loud and Incredibly Close
is a lightweight film, vacant of emotions, but present in its optimism. For that matter it's very uplifting in scenes, but many things lack because of the sour character we are supposed to sympathize with. The main kid didn't have to be a fully functioning clone of other sweet kids in films, but could've been more subtle in his disease. And the father didn't have to be Tom Hanks. Literally.
Starring: Thomas Horn, Tom Hanks, Sandra Bullock, Viola Davis, Jeffrey Wright, and Max Von Sydow. Directed by: Stephen Daldry.