Post by StevePulaski on Nov 15, 2013 10:43:31 GMT -5
Cheech and Chong's Animated Movie (2013)
Directed by: Branden Chambers and Eric D. Chambers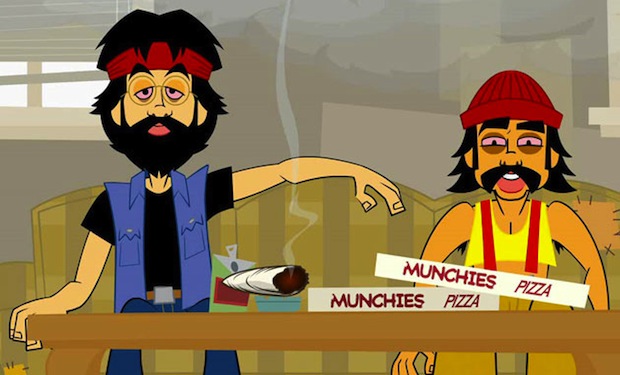 Tommy Chong and Cheech Marin voice their respective characters in their first animated movie.
Rating: ★
Cheech and Chong's Animated Movie
gave me a potentially new way to detect a bad movie. When the film opens with a close-up on a woman's crotch and the insects that reside within the pubic hair, I was met with immediate disgust and sickness. I expected low-brow humor; I didn't expect loathsome humor, devoid of all forms of wit. This is my introduction to the work of popular stoner comedians Cheech Marin and Tommy Chong, and I'm sure many fans will say this project greatly misrepresents their work. All I can say that is it left me with lower expectations of their body of work, along with lower expectations for
Jay and Silent Bob's Super Groovy Cartoon Movie
, the animated feature film starring another popular stoner duo.
This is a film that has no agenda and no real coherent plan, kind of like the stereotype of a stoner. If the film is trying to mimic the listless style of a common stereotype, that's about the only thing it succeeds at. The entire film focuses on bathroom humor, the stupidity of its protagonists, and jokes so foggy in their punchline they appear to be resting in used bong-water. The film revolves around its title characters, who are aimlessly cruising the streets, one higher than the other, and discussing whatever seems to come to their mind at the moment. This lasts for about twenty-five minutes before the duo come home and watch whatever is on TV for about twenty to twenty-five more minutes. Finally, the last thirty minutes seems to focus on...whatever the animators felt like. The precious minutes are wasted on ridiculous comedy skits, captured in retro but relatively uninspired animation with little coherency between scenes. One minute we're on Earth, two minutes later we're in space with little explanation.
Perhaps the assistance of chemical reinforcement helps in the coherency department. Maybe after a few shots and a few puffs of a not-so-legal substance, I would've been enjoying the ride
Cheech and Chong's Animated Movie
provided me with rather than condemning it. Films like this almost don't feel like they're worth the time they take to analyze and review. They simply are, the film simply is, and the work stands as it is. What I mean by that is that the film is already marketed to an audience that will find it (the audience in this case being fans of stoner humor, actual stoners, and Cheech and Chong fans). I wish them the best possible viewing. However, from my point of view, if the bottom barrel humor showcased in
Cheech and Chong's Animated Movie
is the kind of humor they predicated their entire career on, I can't believe they still get work.
The animation is reminiscent of one of those cheesy cartoon specials from years past, or even a low-quality product utilized in a Flash animating program. The colors are vibrant and the animation flows nicely, but really, why does the stoner duo even need animation? Their antics in real life seemed to work for decades, so why must the popular stoner duo return to a medium that really isn't met for this kind of material?
Cheech and Chong's Animated Movie
is a mere seventy minutes and in that time it doesn't do enough to exercise the boundaries of its medium. So my question in the long run, is why even bother making it or even watching it?
Voiced by: Cheech Marin and Tommy Chong. Directed by: Branden Chambers and Eric D. Chambers.