Post by StevePulaski on Apr 23, 2014 21:25:38 GMT -5
2001: A Space Odyssey (1968)
Directed by: Stanley Kubrick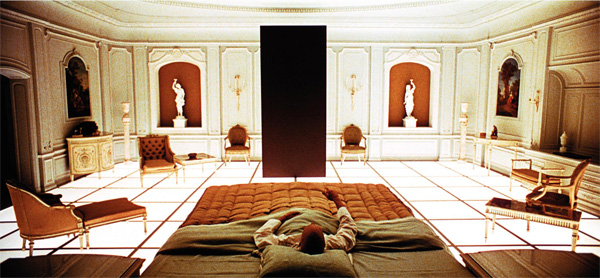 One of the many famous shots of
2001: A Space Odyssey
.
Rating: ★★★★
2001: A Space Odyssey
is a rare movie experience, one of mesmerizing visuals, meticulous craft, full of valuable interpretations, and a work to stand the test of time. Even as computer-generated imagery (CGI) has given animation, action films, and fantasy pictures an antiseptic sleekness and a practical way to showcase certain unforeseen sequences as if they could really happen, films like
Star Trek: A Motion Picture
, its corresponding TV series, and
2001: A Space Odyssey
existed in a time where amateurish special effects where what was predominately available. Director Stanley Kubrick and the studio of Metro-Goldwyn-Mayer (MGM), however, found sources to provide beautiful and limitless cinematography and special effects work in order to bring space into theaters all over the world. This achievement alone is enough to warrant
2001
's placement amongst some of the most important films of all time.
That's just what
2001
is - one of the most significant films ever made. Its use of special effects is incredible, its themes ranging from existentialism to human and mankind's value in the face of excelling technology, its developed and authentic style showcasing space exploration, and its use of detailed visuals all make its placement on such a list a worthy one. Too many people get caught up in trying to find "the best" films that they forget about the ones that made splashes, which circumvented into impacts, game-changers, and iconic works.
2001
is an iconic work from a director who, had he never touched cinema, may've set cinema back several years.
The film is divided into four vignettes that detail man's interactions with advanced and incalculably valuable Monoliths, otherwise known as high-powered machines that do much of the thinking for humans when it comes to space travel and exploration. The first vignette concerns "the dawn of man," following ape-like beings trying to find food in a vast desert, the second concerns passengers aboard a Pan-AM space plane that learn of an epidemic occurring at one of the Lunar bases they're destined to come in contact with, the third and longest shows a group of scientists traveling aboard the spacecraft "Discovery One," joined by the advanced, supercomputer HAL 9000, a machine that should be helping them on their journey to Jupiter but instead seems to be hindering them, and the fourth concerns Jupiter and beyond.
Each of these vignettes could easily spawn individual reviews, and because of that, it's difficult to look at
2001: A Space Odyssey
as an entire project. In one-hundred and forty-eight minutes, the film manages to be often enthralling, wondrous, and on occasions, maddening, as some scenes shine and other scenes seem to drag. But all is well, as there is always something occurring in Kubrick's realm of directorial flair and Geoffrey Unsworth's unmatchable cinematography.
With all the praise
2001
's visuals have earned, it seems like nothing more than a waste of time to address them once again, but they must be. Unsworth's detail is simply exquisite, whether he is showing the vast openness and emptiness of space or he is showing the calculated quarters of these large and sometimes quite ominous spacecrafts. Pay attention to Kubrick and Unsworth's use of the color red, as it often is used to denote fear, vulnerability, and uncertainty. In addition, consider some of the unique and trickier visual sequences, such as the famous Star-Gate scene, where thousands and thousands of colors hit the screen at once, causing a mass amount of pressure and unbelievable visual annihilation on ones retinas. The scene was accomplished thanks to slit-scan photography, which is where a slide that has been slit is inserted between the camera and the camera's subject, resulting in a disorienting but indescribably beautiful and unique work of art.
Because of
2001
's plethora of visual techniques, along with its lengthy runtime, there's a lot to see but also a lot of detail to miss in terms of sights and themes. With this being my first viewing, I was astounded by how useless and void of significance the human characters are in this film. They essentially have no value outside of being devices for which the Monoliths and the technology work off of. This is quite the bleak future Kubrick and co-writer Arthur C. Clarke.
2001: A Space Odyssey
works the best when there is no dialog or character interaction and we're left to focus on a spacecraft drifting in the cold loneliness of space or we're watching the stars sit amongst the darkness. This is cinema at its most meditative and beautiful, especially with the wonderful score that chimes in at just the right times. The film goes down in my book for one of the best uses of a particular piece of music, in this case, the film's frequent use of "The Blue Danube."
There's so much in
2001: A Space Odyssey
, between its visuals, its score, its themes, and its commentary, that it easily warrants more viewings, which I plan to get on in the future. This is the kind of film I can see doing different things for me at different points in my life. Perhaps a second viewing will assure its themes, which I'm still trying to grasp and understand, become more vivid and clearer, where maybe a viewing when I'm an adult affirms realities about the world around us. I'm optimistic for the film to progressively get more insightful and more enriching as time goes on; that's one thing many modern, big-budget films boasting grandiose visuals and effects have a difficult time with.
Starring: Keir Dullea, Gary Lockwood, William Sylvester, and Douglas Rain. Directed by: Stanley Kubrick.