Post by StevePulaski on Oct 29, 2014 10:35:44 GMT -5
The Hoose-Gow (1929)
Directed by: James Parrot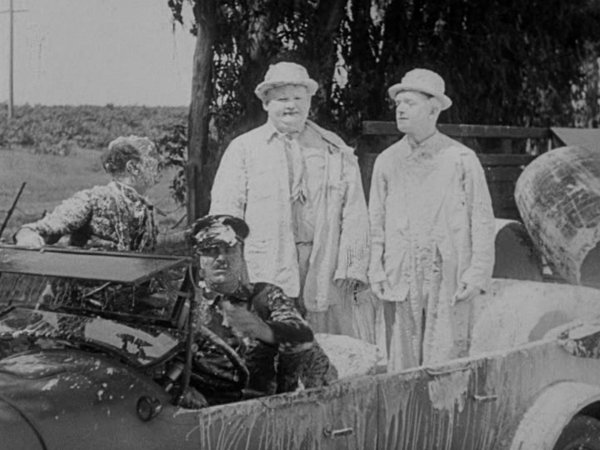 Laurel and Hardy covered in wet paint in
The Hoose-Gow
.
Rating: ★★★
James Parrot's short film
The Hoose-Gow
opens with Laurel and Hardy being trafficked to prison after being mistaken for involvement in a hold-up. The two spend their days digging ditches, cutting down trees, and doing the hard manual labor in prison with the comedic longevity expected from two of the greatest masterminds in silent/talkie comedy. The two manage to get themselves into enough physical pain and trouble that makes up for their false prison sentence, but the two push on and try to pay their dues, even if it results in grave injury.
This is one of the first times I've seen where slapstick really works for Laurel and Hardy.
The Hoose-Gow
doesn't make much of an effort to incorporate a lot of verbal wit, and instead, emphasizes the physical elements. For some reason, perhaps the result of a mood-change or an unconscious desire, I was pleased by the slapstick here, especially during the scenes when Hardy is attempting to cut down a tree and Laurel keeps getting in the way, nearly missing the sharp blade of the pickaxe. Scenes like that provide for slapstick that almost seems improvisational rather than a copout for screenwriting.
One can tell, however, this is an early sound-short because of the lack of formal dialog.
The Hoose-Gow
could've really been a silent short and simply had the timely luxury of being able to be produced with sound. My only assumption to the lack of real conversation was writers at the time, in this case, H.M. Walker, who wrote most of Laurel and Hardy's short films, was just getting used to screenwriting with audible dialog, making the early sound-shorts lack the kind of leisurely-paced dialog that would be present in Laurel and Hardy's later shorts. It's not a particular flaw, just a difficultly in adapting on part of the short's crew, but it would've made for a more witty short.
Yet
The Hoose-Gow
accomplishes a feat I never really thought possible with Laurel and Hardy shorts, which is make them more slapstick driven than dialog driven and have them turn out successful. For that, the film deserves a huge plus, and the fact that this is the most active I've seen both men in any project only adheres to their credibility has fantastic physical performers.
Starring: Stan Laurel and Oliver Hardy. Directed by: James Parrot.