Post by StevePulaski on Jul 31, 2015 23:45:23 GMT -5
The Color Wheel (2011)
Directed by: Alex Ross Perry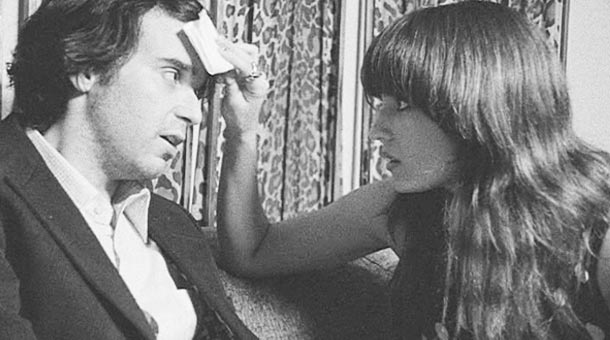 Alex Ross Perry and Carlen Altman.
Rating: ★★★★
Alex Ross Perry's
The Color Wheel
is one of the most marvelous directorial debuts I have yet to see, wickedly witty and self-assured, and also a candidate for one of the funniest comedies of the current decade. It combines sarcastic humor with abrasive, often cut-throat dialog, as if a filter has been lifted between characters so they speak their minds at all times, and blends the lines between being a part of hipster/millennial culture and attempting to satirize it seamlessly. It's some of the most fun you'll have being surrounded by people you probably wouldn't want to associate yourself with in real life.
We follow Colin (Alex Ross Perry), a softspoken dweeb who lives with his girlfriend in his parents house because the low cost of living, to him, is "smart business." Colin, despite opposition from his parents, agrees to step outside of his comfort zone to embark on a road trip with his sister JR (Carlen Altman), who needs to move out of her professor-turned-lover's (Bob Byington) apartment. An aspiring broadcast journalist, JR is having difficultly trying to piece together what kind of path she wants to take for her career, leaving her in a place many millennials currently find themselves - inert and unsure of their options.
However, being that these two haven't spoken nor seen each other in years, they manage to resurrect an icy chemistry upon seeing one another that feels like they haven't stopped fighting since they gained the ability to speak. The two travel through New England, running into old classmates and revisiting family problems whilst staying in places like an eerie motel run by a bleeding-heart Christian, with JR planning to give her old professor an earful and Colin hoping the trip will end as soon as possible.
The first of many reasons
The Color Wheel
works so well is because of its desire to take its characters off of a tightly wound leash and allow them to meander through the film without any sort of situational guidance. Perry, much like this film, is assured in that both JR and Colin can carry a film, thus he doesn't concoct any outrageous circumstances or any raunchy scenarios. There are awkward moments, made only more awkward by the way JR and Colin handle them, but nothing is played for theatrics or for the sake of desperate comedy. Perry allows these characters to carry their own film, never restricting their spirits and, in turn, almost creating a stream of consciousness style of filmmaking (only elevated further by several shots that focus on characters walking or simply existing).
Secondly, Perry and Altman have such natural, refined chemistry here that they might as well be brother and sister in real life. Perry's Colin has the true sensibilities of someone who walks into someplace new, immediately scopes out every possible exit, and runs through a list of excuses or alibis that could get him to leave early without getting a second look. His simple mindset of being by himself, or with his girlfriend, avoiding anything and everything new, is ripe for comedic jabs and that's why we have Altman, a thoroughly hilarious and beautiful actress who has mastered the art of delivering a comeback with sarcasm.
With the two together, Perry gears his conversations between himself and Altman as a brother and sister who have no filter, saying the first thing on their mind to each other and not caring if the other person likes it or not. In a mainstream effort, or a film by lesser talent, every time a brutally honest encounter would occur between two characters, one would leave in tears and we'd be presented with an anticlimactic five or ten minute sequence of whining and moping. Not Perry and not in
The Color Wheel
; the first conversation had between JR and Colin is Colin saying to JR that brightly scribbling and decorating posterboard with her hopes and dreams to make allegedly make them more obtainable is unfounded garbage. This comes right before he decides to shift everything on the dashboard of her Honda Accord to the floor in a bold and fearless display of authority by someone who doesn't very often claim any.
It's this constant unpredictability between scenes that allows for
The Color Wheel
to be so surprising but also remarkably fluid and natural. We can't often predict or foresee what life has for us, so this sort of unevenness paradoxically works for the film while it could hurt another comedy of similar merit. It also helps that Perry is, again, so confident in his material, simultaneously embracing the millennial culture of self-discovery and the methodical pursuit of happiness, that he can adhere to its conventions yet blatantly call out its shortcomings and eccentricities. Consider the scene in an antique shop, or when JR and Colin show up to an old classmate's get-together with a pineapple and are rightly questioned for their strange gesture (especially after Alex's offputting but hilarious comment). Perry loves his environment so much he's not afraid to show it or slam it, depending on what the scene calls for.
The Color Wheel
is shot with extremely grainy black and white videography in a way that reminds of the scuzzy cinematography that made Kevin Smith's
Clerks
look like it was recorded with the surveillance cameras in the very same convenient store in which it was set. The black and white adds to the essence of the film, and is only fitting for the style and the film's content. This is a film made up of scenes, vignettes, and conversations instead of cinematographical or thematic details (if you can understand the constant duality and plurality of sibling love and the general concept of disillusionment,
The Color Wheel
is anything but complex thematically) that can distract us from the picture at hand. This is a thoroughly beautiful film, rich with unfiltered, unabashedly blunt dialog, awkward scenes that are played off in a boldly comedic fashion instead of humbly dismissed and segwayed past by an unsure director, and two sublimely dedicated performances at the film's core. If contemporary indie comedies, or the mumblecore (a word I've been trying to stay away from throughout this review) movement needed a voice, it would find it by showing this film at a festival and holding a discussion with a panel upon its completion.
Starring: Alex Ross Perry and Carlen Altman. Directed by: Alex Ross Perry.