Post by StevePulaski on Apr 28, 2016 17:32:21 GMT -5
Roger Dodger (2002)
Directed by: Dylan Kidd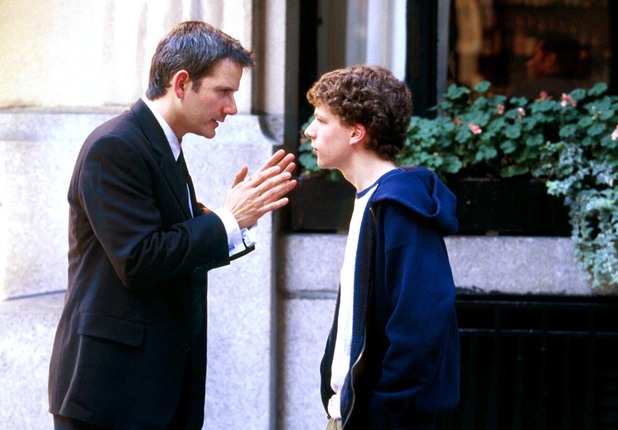 Campbell Scott and Jesse Eisenberg in
Roger Dodger
.
Rating: ★★★★
Many cite
Seinfeld
as the best show about nothing at all, but I have never really made it through a full episode to affirm or deny that statement in any way. I can, however, say that Dylan Kidd's smartly written, outrageously funny, and uncommonly witty
Roger Dodger
is arguably the best comedy-drama I've seen about nothing. Sure it's an examination of men, women, and sex, but doesn't touch on or exploit any kind of convention we aren't already familiar with. Western men think about sex far too much, they feel women want to engage in it far too little, men have crafty ways of checking out women, and when they sit down at a nightclub for drinks on a Friday evening, it's a whole operation to assure they're not sleeping in their bed alone at night.
These are observations that Alfred Kinsey probably would've chuckled at whilst working on something bigger and more profound in the field of sex psychology, but as far as
Roger Dodger
is concerned, Kidd, who also serves as the film's writer and co-producer, it's a hilarious look at the aforementioned conventions we've grown accustomed to. Lead by a fantastic and breathless performance in a dialog sense by Campbell Scott, an actor we see far too little of in our movies, the film focuses on its titular character, Roger Swanson, a cynical New York advertising agent who maintains an on/off relationship with his boss Joyce (Isabella Rossellini). The film opens with an entrancing five minute discussion led by Roger among his coworkers talking about how sex will become so radically advanced in the next few years that women won't even need men as a means of sexual pleasure. The entire conversation appropriately sets up for the screenwriting wit ahead.
While working, Roger's sixteen-year-old nephew Nick (Jesse Eisenberg), whom he hasn't seen in years, comes in, hopeful that his Uncle Roger will allow him to spend the night at his home and aid him in losing his virginity. And so begins a wild night of male bonding for both men, as Roger teaches Nick damn-near everything he knows in just one outing. Roger teaches him everything from how to discreetly check out a woman using all of his senses including the ability to use storefront windows and reflections to make his leering even more unnoticeable, to digging into everything a woman can say and crafting a witty response to it in the meantime.
The two's first "victims" of sorts are a couple of older ladies (Jennifer Beals and Elizabeth Berkley) who sit down for drinks right across from the two gentlemen as their initial comments to them seemed promising. Nick tells them that Roger and him have a bet of $1,000 on the line that Nick will win if he falls in love tonight. The two ladies don't seem to buy the bet, for they are too intelligent to do so, but play along anyway, conversing with the two men as alcohol is poured and the night burns away.
Kidd focuses the entirety of
Roger Dodger
on character relations and dialog, largely magnifying Roger's sharp-tongued, know-it-all wit and Nick's nervousness, which the two women find charming and inoffensive in contrast to his frequently crass uncle. With this, you have a setup that is strangely tense and loose enough where you don't really know exactly where the film is going and can't discern its path or purpose, but that makes it all the more investing as a whole.
Scott and Eisenberg are a delightfully mismatched pair that Kidd doesn't feel the need to constantly remind us are a mismatched pair. Much of this is because Kidd makes Roger so intriguing with his mile-a-minute speech and his conceptions about women, which are simultaneously contemplative and frat-boy-esque. He never attempts to turn Roger into a character we should like, but also keeps him as a character that we should at least hear out, and Eisenberg, in his first film role, is charmingly innocent as his character is dragged through numerous different night clubs with the hopes of getting lucky.
Roger Dodger
doesn't break new ground in that it sticks to the same kind of chauvinistic mindset many men have had for years and, at the end of the day, the theme and central focus seems to be rooted in the moments of the film rather than any kind of overarching idea. The film winds up being the kind of film you really shouldn't become so invested in because of its simple-minded nature, but it's the rare film that's compelling on the basis of its addictive dialog and its characters' beliefs, which is so hard to pull off, similar to Kevin Smith's directorial debut
Clerks
. Through it all, Scott and Eisenberg are a terrific pairing in a film that allows them to freely maneuver around the minimal confines of a script that's basically a "sandbox style" comedy with a great deal of dialog and no conventions such as redemption or self-realization standing in the characters way.
Starring: Campbell Scott, Jesse Eisenberg, Isabella Rossellini, Jennifer Beals, and Elizabeth Berkley. Directed by: Dylan Kidd.