Post by StevePulaski on Apr 30, 2016 9:55:26 GMT -5
The Bikini Carwash Company (1992)
Directed by: Ed Hansen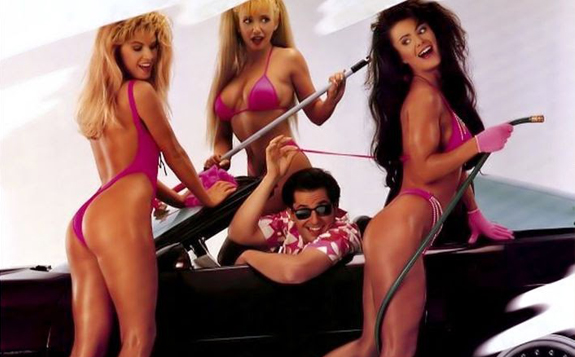 Rating: ★★
The Bikini Carwash Company
is as simple-minded and as innocuous you can get for the realm of softcore porn. It doesn't opt for the realm of Cinemax-stiffness in acting or appearance of a group of young models simply lumbering through exposition in order to get to "the good stuff," and it doesn't possess a fear of toning itself down as if it needs to be more acceptable to audiences like it's an R-rated film. It's a perfectly middling effort that combines a fairly competent band of sex scenes with a pretty lame story to create a relatively inoffensive film where sex and nudity is the only constant.
I've long reviewed softcore and pornographic films because I see the merit in doing so. There's something that has captivated me about both since I was young; a brand of film that existed in the taboo realm where many found it to be offensive, despite it often having considerable amount of artistic merit. Then there's the arousal factor, which always played in heavily for me, as well, as I'm sure it does with anyone who watches pornography. With that being said,
The Bikini Carwash Company
manages to be a fairly successful film in arousing the primal senses. However, when it comes to crafting a story worth giving a damn about, it's quite facile and underwhelming.
The film revolves around a group of young women (Kristi Ducati, Ricki Brando, and Suzanne Brown) who decide to take part in a bikini carwash over the summer per the request of the goofy business owner Jack (Joe Dusic). Jack approaches the ladies one day as they're soaking up rays on the beach and asks if they want to partake in a carwash as a summer job, and it isn't long before the ladies turn their newfound gig into a lucrative opportunity to wash cars in scantily clad bikinis. The real attraction, besides having barely clothed/legal women wash your vehicle, is to see the sexual antics of the women carried out before the eyes of whomever happens to be watching.
With that, there's a half-baked voyeurism that exists in
The Bikini Carwash Company
, even though the bulk of the film is really about the obvious sexual escapades of the women moreso than the undertones. Nonetheless, like many softcore films of the time, the film runs dry on its concept fairly early largely because it doesn't cater to any kind of subtext or undertone in order to increase its longevity. One can only watch and be mesmerized by buxom women for so long before the appeal wears off (unless we're talking Jim Wynorski's film, who has a cameo appearance here,
Busty Cops
for its own separate reasons) and the film's humor falls flat.
The Bikini Carwash Company
is compelling eye candy throughout, but almost lamely safe with nothing to offer beyond the sun-soaked, suds-covered surface.
Starring: Joe Dusic, Kristi Ducati, Ricki Brando, and Suzanne Brown. Directed by: Ed Hansen.