Post by StevePulaski on May 26, 2016 17:30:09 GMT -5
House of Frankenstein (1944)
Directed by: Erle C. Kenton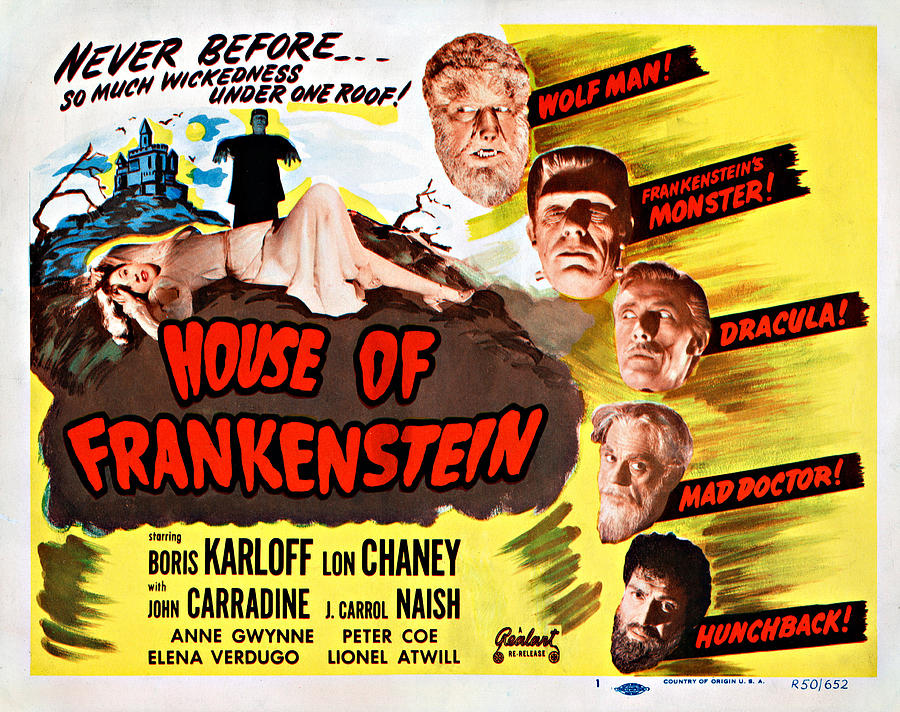 Rating: ★½
One could theoretically call
House of Frankenstein
the first time a "cinematic universe" of characters ever got together, a term now commonly associated, if not branded, by Marvel with its never-ending line of superheroes. The film features a plethora of recognizable Universal monster characters coming together for one big movie, but unfortunately, what entails is a miserably slow event that is too talky, too dramatically inert, and incapable of drumming up any kind of cohesion or scares one should expect from the promising concept.
The film's main character is Dr. Gustav Niemann (Boris Karloff), who winds up escaping prison with his hunchback assistant Daniel (J. Carrol Naish), who work to take over a traveling showman's horror exhibit upon killing him and disposing of his body. Dr. Niemann's plan is to get revenge on Bürgermeister Hussman (Sig Ruman), the man who imprisoned him in the first place, by reviving Count Dracula (John Carradine), who winds up getting cursed after Niemann disposes of his coffin. Dr. Niemann winds up getting Frankenstein (Glenn Strange) and the Wolf Man (Lon Chaney, Jr.) to try and save Dracula as well as assist in the initial goal of killing Hussman.
It's hard to imagine
House of Frankenstein
working with such a cheap and basic plot, but I'm sure it could've been done had emotional investment and character interest been the primary goal of screenwriter Edward T. Lowe, Jr. Unfortunately, everything from character development to any kind of interest that isn't based on the basic recognition of these iconic monster characters is sacrificed for fairly incoherent and rambling scenes of directionless talking and planning. When you have a great deal of listless conversations where several of people's favorite monsters are lurking in the background, essentially more scenery than prime characters of the film, that bears a big problem.
And it's a problem that
House of Frankenstein
doesn't want to recognize, it seems. Despite the title, Dracula seems to be the main focus here, and despite that, even Carradine doesn't find much to do with himself here that he couldn't have done more successfully in other films. He winds up being a small and uninteresting character amidst many others who, outside of their ability to be recognized, have little to offer.
It's as if Lowe, Jr. and director Erle C. Kenton drained everything from the characters and the setups they could to make a film that looks and feels inert. No sense of tension or buildup is exercised, the actors, especially Karloff, Carradine, and Chaney, Jr., don't seem to have any clue what their characters' purpose is, and everyone feels just as lost and confused as Hussman when he winds up meeting his maker. For a primitive example of what happens when characters from alternate films but the same cohesive world come together, it's no wonder why it took so long for something similar to happen after the intense mediocrity of
House of Frankenstein
.
Starring: Boris Karloff, John Carradine, Glenn Strange, Lon Chaney, Jr., J. Carrol Naish, and Sig Ruman. Directed by: Erle C. Kenton.