Post by StevePulaski on May 4, 2017 23:18:37 GMT -5
Pet Sematary (1989)
Directed by: Mary Lambert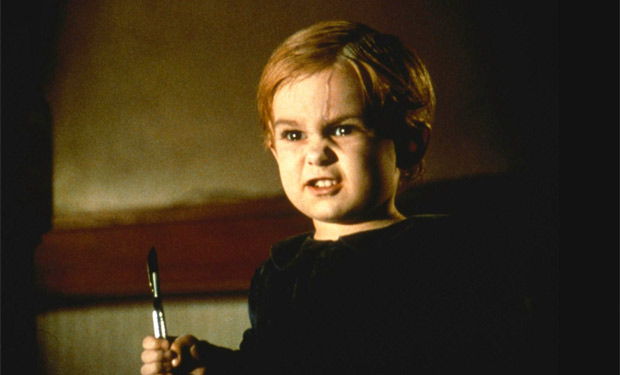 Blaze Berdahl.
Rating: ★★★
NOTE:
This film was recommended to me by Emily Mack for "Steve Pulaski Sees It," a month where I watch twenty-five films requested by friends, fans, and readers.
The nuclear family known as the Creed's - comprised of mother and father Louis (Dale Midkiff) and Rachel (Denise Crosby) and their young children Ellie (Blaze Berdahl) and Gage (Miko Hughes) - against all their horror movie wisdom, decide to move from Chicago the rural town of Ludlow, Maine on account that they're probably big Stephen King fans. They befriend their aging neighbor Jud Crandall (Fred Gwynne), despite him having the look and personality of the Grinch, who shows them the "pet sematary" that is sealed off on a pathway behind their home.
The cemetery disturbs the oldest child Ellie, who fears for the safety of their young cat Church, especially considering their house is right off of a busy highway where truckers like to do what looks like twenty miles over the limit. When Church gets struck by a truck and killed while the family is away, Louis tries in utter desperation to revive him by burying him in the pet cemetery per the instruction of Jud. While Church does indeed come back to life, he's mangled and unattractive, not to mention vicious towards the family. The family's life not only becomes in grave danger with a zombie animal roaming their home, but also a broken one when tragedy strikes a family member in similar form.
The pet cemetery, on the other hand, and its haunting character loom over the family like a dark-cloud that will not pass, and Jud's ominous demeanor doesn't help matters either.
Pet Sematary
is at its most effective in this way and several others, remaining unsettling or terrifying largely on the merits of its concept and the creepiness it manages to conjure up. The thought of a cemetery filled with the carcasses of dead animals, so we think, existing as part of the backyard to someone's home, is a terrifying, communicable concept regardless of the language or culture in which it's communicated.
Screenwriter Stephen King, who unsurprisingly wrote the book, also makes you squirm by whom he chooses to focus on throughout the film. Rather than making Louis or even Jud a main focal point of the film, King relies on the preciousness of a cute kitty and the innocence and vulnerability of young children in order to keep his premise afloat. Those who love to claim King - who has three children of his own - has a particular hatred for kids in his movies at least have some substance with this film, especially given its title, derived from the misspelling of the pet graveyard sign seen as one enters.
King and directress Mary Lambert craft an aura suspenseful and interesting enough to make up for some pretty poor acting on most fronts, save for the convictions of Fred Gwynne. Gwynne's lanky stature and croaky voice, as if he's talking through a tracheal ring provide for enough character in a film where most of the cast feels largely faceless. Most of the time, I was waiting for Church's next move or Jud's monologue about the dangers and history of the pet cemetery.
Pet Sematary
lives up to its reception amongst Stephen King fans, who rank it better than some of his earlier works, but not worthy to rest alongside
It
and
The Mist
, and that goes for both the novel and the book. Those films brewed a great concept and ran with them in such a way that expanded upon their potential to develop their own respective universes with a set of ethical questions to go along with their concepts.
Pet Sematary
is more one-dimensional, noticeably cheaper in its aesthetic, and far less captivating on a performance-level, but its commitment to a haunting atmosphere and King's desire to instill fear in us as we watch two of the safest subjects we know in our lives carries a lot of weight to the point where it gets by without breaking its back.
Starring: Dale Midkiff, Fred Gwynne, Denise Crosby, Blaze Berdahl, and Miko Hughes. Directed by: Mary Lambert.