Post by StevePulaski on Sept 18, 2017 11:08:54 GMT -5
The Departed (2006)
Directed by: Martin Scorsese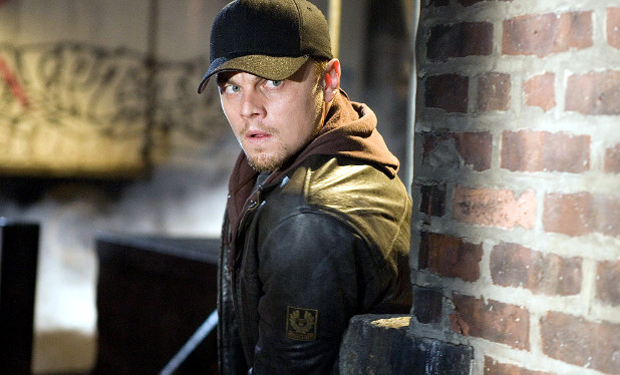 Leonardo DiCaprio.
Rating: ★★★½
"I don't want to be a product of my environment," mobster Frank Costello (Jack Nicholson) insists at the start of Martin Scorsese's
The Departed
. "I want my environment to be a product of me." By the end of the film, after everything that's happened, we get the idea, in that particular sense, that he indeed succeeded.
Costello has had a stranglehold on the Irish neighborhoods of South Boston for quite sometime, operating carefully under the nose of the law with a talent for remaining elusive. He keeps Colin Sullivan (Matt Damon) under his wing to act as a mole inside the Massachusetts State Police Department, where Colin is tasked with towing the tricky line of helping the feds crack down on Costello while forewarning his longtime friend whenever things are getting too hot.
Then there's Billy Costigan (Leonardo DiCaprio), a soon-to-be-graduate of the police academy, who is snatched up by Captain Queenan (Martin Sheen) and Sergeant Dignam (Mark Wahlberg) in efforts to assist in an undercover infiltration operation with Costello. Costigan's family has a rich mob connection, prompting Queenan to assign the young man on a mission to cozy up to Costello after serving time for a staged assault charge.
While Sullivan tries to keep Costello in the clear and not give his department any identifiable clues he's colluding with the other side, Costigan works alongside Costello and his goons to discover the presence of a police mole, essentially breeding a group of men running in circles looking for similar perpetrators. There's also a subplot featuring a police psychiatrist (Vera Farmiga), who forms a romance with Sullivan while learning of Costigan's situation as part of his probationary requirements.
Scorsese's vulgar, Oscar-winning remake of Andrew Lau and Alan Mak's 2002 drama
Infernal Affairs
from Hong Kong boils down to one extractable fact in the world of the mob, and that's you can take the person out of the mob but you cannot take the mob out of the person. Long before Sullivan had ambitions of being a police officer, he was a petty informant for the grisly Costello, who kept his head above water thanks to the dominating mobster's many kickbacks. Now, pulling double duty as a pig and a rat, Sullivan occupies a good third of the barnyard, caught between bringing a lifelong friend down and giving him enough of a crack through which to escape.
Costigan, on the other hand, has nothing to lose. A police academy dropout with an unsavory family history that would handicap any potential job he'd try to get, he's lived his entire life on the outskirts of success and luxury. Unlike Sullivan, however, as time goes on and he works closer with Costello, garnering more and more secrets, he begins to tell Queenan and Dignam that he "wants his identity back." This is the hairy, overarching commonality of all three of the film's main characters, for they are all living double-lives with multiple identities, even Costello himself. Costigan is forced to embody an inauthentic identity, Sullivan must balance old relationships with his new job in a contradictory manner, and Costello must do what he can to stay afloat, stay head, and make his environment a student of him.
Scorsese assembles an ensemble of some of the best American actors working today. For one, he makes his protégé Leonardo DiCaprio (whom he employed for weighty roles in
The Aviator
and
Gangs of New York
) appear far younger and more street-savvy. With a buzzcut, blue-collar garb, and a stone-face, DiCaprio fits right in as a youthful Boston southie, as does Matt Damon in a more formal manner. Damon is a strong contrast to DiCaprio, with a more clean-cut image and authority as opposed to DiCaprio's Costigan. If Sullivan landed in hot water, he could presumably use his own talents and careful tactics to evade the law. If Costigan landed in hot water, he would likely have to resort to his fists or a pistol.
Then there's Nicholson, the nucleus of the film's characters, giving them a reason to exist and looming over them to assure all their moves count. Nicholson is himself in the best possible way, snarling through much of the lines that require a blunt-force edge while easing the pain with the perfectly proportioned amount of black comedy. He works particularly well with DiCaprio, showing two different generations of actors who each do their part to define their respective generation.
The last thing you need when you employee all of these aforementioned actors, in addition to Alec Baldwin, Ray Winstone, and Anthony Anderson, for a Scorsese movie is give them adrenaline-fueling dialog filled with four-letter words and bloodshed. Needless to say,
The Departed
doesn't skimp on either. It's abundantly clear director has a lot of fun getting these characters tangled in a cat-and-mouse game while both suppressing and expelling rage. Its as hard-nosed and as boldly vulgar as anything Scorsese as done, but unfortunately not committed to the same level of historical and institutional relevance as
Casino
, or as heavy on the guilt subtext as
Goodfellas
.
The Departed
comes with different goals in mind and those seem to be articulating the idea that everyone is living multiple lives, especially those possessing authority or privilege above the masses. After all, there is no one more full of s*** than a cop, except a cop on TV," as eloquently put by Costigan.
With a film that could reasonably be seen as the closest thing he's done to two of his potential "crowning achievements," Martin Scorsese successfully transports a story from China to America and paints it as a harrowing look at the Massachusetts mob with the story of Whitey Bulger at its core. Screenwriter William Monahan handles a tricky story that would probably be better suited for a thirteen-episode HBO miniseries and distills it down to a fierce and engrossing iteration on the ugliness of the underbelly from which Scorsese couldn't be paid to turn his camera away.
Starring: Leonardo DiCaprio, Matt Damon, Jack Nicholson, Martin Sheen, Mark Wahlberg, Alec Baldwin, Vera Farmiga, Ray Winstone, and Anthony Anderson. Directed by: Martin Scorsese.