Post by StevePulaski on Aug 8, 2010 22:35:56 GMT -5
The title card for
Clerks: The Animated Series
.
Characters: ★★★★
Plot: ★★★
Jokes: ★★★
Overall: ★★★½
It may be one of the shortest TV show runs in history, but its better than a lot of long running television shows.
Clerks: The Animated Series
was a spin-off of the 1994 movie
Clerks
. Unlike the movie, this was animated and a lot cleaner than the film. It's R rated, border NC-17 dialogue was now cut back and if one watched an episode of this could easily mistake the movie to be a PG sort of movie. Since the show was picked up by ABC and used as a "Saturday Morning Cartoon" kind of show, it had to maintain a near clean state. ABC sort of screwed themselves with this show airing episodes out of order. Two episodes were aired before being canceled. The fourth episode was aired as the first and then the second episode. The second episode is a clip show and takes much humor from the first episode. So unless aired in proper order, the two episodes together make no sense. Other factors contributed to the show being rated poorly and test audiences found it mediocre. For a die hard
Clerks
fan like myself, it definitely amuses. Even with cleaner dialogue.
The four main characters and the setting of the show.
The plot of the show is identical to the movie's. Dante Hicks (O'Halloran) and Randal Graves (Anderson) are slackers working jobs at a Quick Stop convenient store and RST Video, a rental outlet. Both have no ambition or hopes of getting any higher in the business industry and just bathe in the water their in. Jay and Silent Bob (Jason Mewes and Kevin Smith) are two "friends" of who make mischief outside the store. Each episode consists of a different misfortune. Dante trying to run a baseball team, Jay slipping on soda and suing Quick Stop, them being stuck at the store until closing (like the movie), and Leonardo Leonardo (the prime villain) trying to take the store's business away.
Jay after slipping on Randal's soda (Episode four).
With every episode of the show is hit or miss. I never disliked any episodes of the series but episode five,
Dante and Randal and Jay and Silent Bob and a Bunch of New Characters and Lando Take Part in a Whole Bunch of Movie Parodies Including But Not Exclusive To, The Bad News Bears, The Last Starfighter, Indiana Jones And The Temple Of Doom, Plus A High School Reunion
. My favorite has always been episode six,
The Last Episode Ever
. Its the closest that we'll get to the original film and it's almost the same as it, just a cleaner version. Some old characters come back and overall it's the best episode of the series.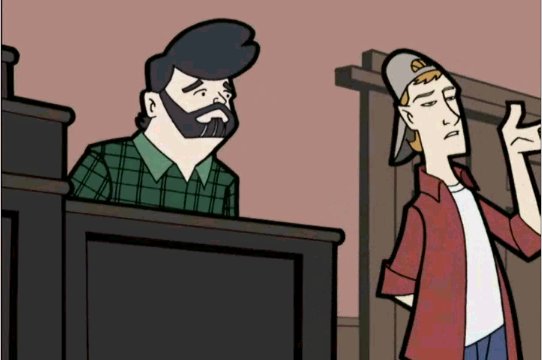 The characters are perfect. I wouldnt change one detail about them. Their excellent and very comparable. My friend and I are like Dante and Randal with Dante being myself. Every character serves a purpose in the show and not one shouldnt belong. The plot of the series is cool too. Not every episode could be just Dante and Randal working till closing. For what they did with the different types of episodes is what I like best. Most five out of six episodes they did were great and that certifies for me that the plots they thought up were successful. Sure the Little League episode was below average, but as far to my knowledge no series is perfect. Some close though.
The jokes too are funny. Before I say anything, the big red box reading "UNCENSORED" on the box cover does not mean any language was added. The uncensored means that one clip (not saying which) was added back in episode two. If I recall correctly, the only cuss in the series was "poor bastards" said twice in episode six. Nothing more. That was it. The jokes arent as funny as in the movie, because you wont get better than the movie with a PG style show, but you will get some creative one liners and some funny inside jokes added in as well.
Overall, it may not be the same, but
Clerks: The Animated Series
is definitely a must watch series. For a while and currently are talks about an animated movie called
Clerks: Sell Out
about Dante and Randal making a film about their lives at the Quick Stop. The project has not been confirmed or denied yet, but Kevin Smith states he really wants to do it. Disney still owns the rights to it, though the Weinstein brothers left and Disney refuses to work with them leaves
Clerks: Sell Out
in question. Whatever happens, if it's like the movie or the TV series, it'll be a great film. Though with all that being said
Clerks: The Animated Series
is an above average, underrated series that should have lasted for more than six episodes.
Starring: Brian O'Halloran, Jeff Anderson, Alec Baldwin, Jason Mewes, Kevin Michael Richardson, Tress MacNeille, and Charles Barkley. Creator: Kevin Smith and Dave Mandel.