Post by StevePulaski on Jul 15, 2011 22:19:10 GMT -5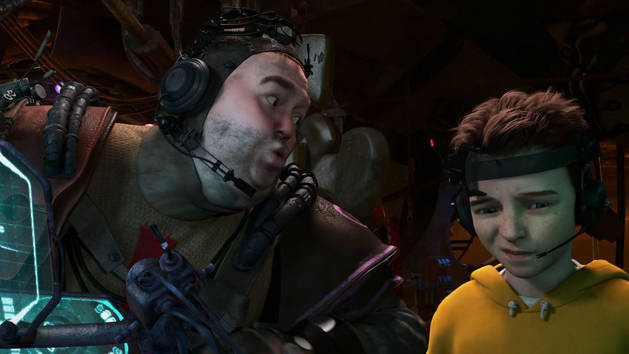 Gribble's animated self resembles his voice actor Dan Fogler very much in
Mars Needs Moms
.
Rating: ★½
I've heard many say
Mars Needs Moms
is sexist. It's worse, it's one of the most miserable and loathsome kids movies I've ever seen. It combines awkward animation, murky colors, effortless story-telling, and a very poor plot to create a tasteless and uninspired film. This is the kind of thing I'd expect to see from a no-name animation company, not Disney.
Mars Needs Moms
features the inventive motion-capture style of animation where actors are fitted for special suits and act out all of the motions done by their characters in the movie. When I think of this, I think of
Jackass: The Game
because it is provided in movies and video games to give them a more natural feel. In
Jackass: The Game
, they utilized it to make the stunts seem realistic and more natural. Here it is awkward like it was in
Jackass
. It's a hybrid between animation and live-action. Sometimes it even looks live action. All around, it's odd and out of place. I don't think this is the kind of film that needed it.
The plot is nonstop confusion and is convoluted to the point where I must question, would I have understood this if I were maybe five or six. The answered is no. I would've been horrified by the thought of my mom being kidnapped by martians. That's right. After wishing he didn't have a mom, nine-year-old Milo's (motions done by Seth Green, voice acting done by Seth Dusky) wish comes true when his mom (Cusake) his kidnapped by martians in a spaceship.
Milo hitches a ride, and after meeting up with another human on the planet named Gribble (Fogler), Milo is told that mars needs moms to have their "mom-skills" be transferred into Mars's many nannybots so they can control their young. The story-telling and plot had me lost a good portion of the film, and I can't imagine a six-year-old in the theater getting too involved or even caring what happens.
When it comes to the storyline, that is where
Mars Needs Moms
fails greatly. Why would their be a kids movie about a child's mother being kidnapped? That just baffles me. Many kids around Milo's age are attached to their parents, and while we all get frustrated with our moms once in a while, we would never want them to be kidnapped. If I would've seen this film as a kid, especially the end scene, I probably would've been a wreck. It's like
Marley and Me
. Don't market something as a kids film when it has a plot that either won't appeal to kids or affect them emotionally.
Suits worn by actors to utilize a film's motion-capture animation.
I did like the acting enough to keep watching. I like Dan Fogler in one of the year's earlier pictures,
Take Me Home Tonight.
. Plus I did frequently try to imagine the hard work and stress that went into something like motion-capture animation. The actors were most likely put through tons of labor and had to do some movements that would make you wake up with a sore back and neck. All for a huge flop that is now record setting with net losses over $100 million.
I'm sympathetic because of all the time and work that was put into the project, but I'm also disgusted at the plot and the execution of this film. The fact this film is made the way it is is surprising, since it is a joke of a kid's movie with one of the strangest plots ever concocted.
Mars Needs Moms
, just from the title, has nothing to hide. It's obscure, lifeless, and stuck in the wrong world.
Starring: Seth Green, Tom Everett Scott, Joan Cusack, Elisabeth Harnois, Dan Fogler, Dee Bradley Baker, and Mindy Sterling. Directed by: Simon Wells.