Post by StevePulaski on Apr 18, 2015 10:49:40 GMT -5
Mouse Trap (2012)
By: Lil Mouse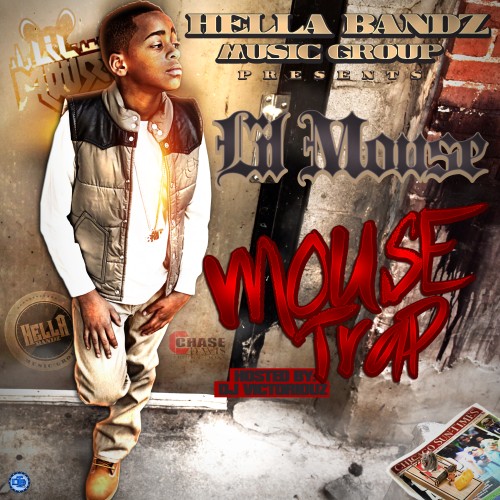 Rating: ★★★
With the rise of teenage rappers in Chicago, many of whom gaining popularity through mixtapes, Youtube videos, and online promotion, twelve-year-old Chicago rapper Lil Mouse has caused a whirlwind of controversy since arriving on the rap scene in 2011, quietly asking the question how young is too young to be a glorified rapper. Mouse was the subject of a front-page story for the
Chicago Sun-Times
, where columnist Mary Mitchell brazenly referred to Mouse's situation as an act of "child abuse" undertaken by parents who "should know better" than to expose their child to that kind of lifestyle at such a tender age. His situation is in similar vein to the likes of other young rappers like Kriss Kross and Lil Bow Wow in terms of exposure at a young age in a tumultuous and potentially violent, but Lil Mouse is far more explicit in lyrical content and subject matter than any other artist his age.
Mouse's debut mixtape
Mouse Trap
is a brisk ride through the youngster's life and lifestyle, which circumvents from gangbanging, shooting, cashing out, "banding," and earning respect of his peers. Mouse's most famous song, "Get Smoked," is included on the mixtape, assisted by Lil Wayne, who helped propel the artist to mainstream stardom. The song combines Wayne's cheeky, metaphor-heavy lyrics with Mouse's laidback, almost cloud rap style to produce an effective rap song that, like a lot of Mouse's music, thrives on inherent likability of the person singing. Other songs like "D. Wade" and "Lil Yummy Tribute" show Mouse rapping at more liberal paces, exuding strong lyrical talent and his ability to handle flows of all different likes.
Even acclaimed Chicago producer Young Chop produces the relaxed, R&B-infused "Clear the Crowd," again, giving Mouse an edge and a sense of variety in his music you wouldn't expect from a soul so young. His features even help the tween gravitate to find his sound a bit quicker on more songs, such as "Katrina," which features Coke Boy rapper Lil Durk, where Durk's autotuned vocals and Mouse's higher-pitched voice work well with one another.
Mouse Trap
is a relatively strong collection for a rapper who, while bearing a discernible fanbase, still has a great deal of animosity and childish hatred to overcome within the next few years. Then again, however, I suppose all rappers do in some way, but Mouse's age works to fuel such negativity and cheapshots. If one strips back that fact and looks at his music with perspective, they find a seriously infectious album filled with a wide variety of tunes that accentuate an artist who will likely keep churning out solid songs if given the opportunity.
Recommended tracks (in order): "Clear the Crowd," "D. Wade," "Lil Yummy Tribute," "Get Smoked," and "Katrina."