Post by StevePulaski on Apr 21, 2015 17:01:12 GMT -5
Cursed With a Blessing (2014)
By: Montana of 300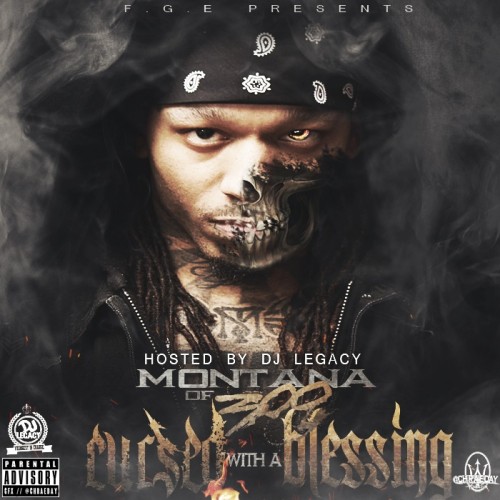 Rating: ★★★★
When you bill yourself as "hip-hop's Goliath" as twenty-six-year-old Chicago-born rapper Montana of 300 did in his remix of Bobby Shmurda's hit song "Hot N****," you better be bringing something enormous to the table in style and potential. After perusing almost a dozen of Montana's remixes and original songs, I knew he was the real deal. His aggressive flow is one of his many amazing attributes, but the fact that each song of his has an evident pace to it, building tension and suspense as it moves along before delivering an explosive climax and amazing lyrical talent mixed with clear diction and enunciation just adds to his impeccable talent. His style and charisma knows more than original work as well, as he is known for taking the instrumentations of popular songs and providing them with his own lyrical tenacity.
Montana of 300's (a reference to the film, not the Chicago gang)
Cursed With a Blessing
is not just a phenomenal introduction for one of Chicago's newest faces, but, in my opinion, the quintessential showcase for drill music. While not nearly as vicious as Montana's remixes of "I Don't Like," "Hot N****, or "Try Me," nor as poppy as some other rap mixtape ventures, Montana finds an elegant blend of viciousness and catchiness, creating an album that has more or less an equal number of bass-thumping madness and laidback swagger. This is far and beyond the strongest drill compilation I have yet to hear.
Montana toys with his own personal style here, one that is hellbent on finding the wittiest similes and metaphors in conjunction with being a clearly articulated, lyrical poet of sorts in whatever form the specific song calls for. In some cases, Montana will be ruthless, such as the track "Ice Cream Truck," a tune boasting eerie production about how Montana and his goons will pull up to ones' house with the windows down and guns exposed. Nonetheless, Montana doesn't have this song distracted by its own mean-spiritedness, throwing in his hilarious banter at the start of the second verse: "Bitch, I think I'm Nino, mixed with Al Pacino. I'm stackin' chips like Pringles, I ball like Ochocinco." In addition, "Let That 40 Bang" shows off an aggressive style of Montana's more along the lines of his remixes, throwing gunshots in the instrumental that, for the first time, don't feel like a petty distraction.
In other songs, however, Montana will sway with the beat, like he does on "Breakin' Rules," assisted by his partner-in-crime (literally) Talley of 300 and Jalyn of FGE, as well. The song infuses more of a pop sound, drenching Montana and company's vocals in autotune that doesn't detract but adds a crooning layer to the song. Accompanying tracks like "Holy Ghost" evoke God and other holy metaphors for a zealous six minutes of rap that demands an immediate listen, "Air Jordan" shows that Montana can have infectious, more repetitive hooks and serve up some of the finest lines and flows, and "F*** Her Brains Out" echoes the charisma that rapper Plies brings to his more romantic songs that still offer a hardened, vulgar edge that Montana doesn't skimp on at all.
Montana turns personal on tracks like "All I Ever Wanted," recalling when he used to fall asleep staring at cockroaches on his ceiling and reflects on his mother's crack habits that scarred his childhood. "Game of Pain," however, as Montana reflecting in a way that adheres more to the craft and flow of a traditional rap song. He reminds us in this song that even though we read about him, listen to his music, and even listened to his mixtape, we don't know even half of his story. "You don't know my struggle, you don't my grind, you don't know the thoughts going thru a n**** mind. You don't know my past, you don't my path, you don't my wrath, nah p**** n****, you don't know the half," he tells us in an unsurprisingly zealous manner.
To go on about
Cursed With a Blessing
means I'd have to analyze and state why each song on this mixtape is worth checking out, but we don't have that kind of time. By now, you should either know Montana of 300 or be in the process of looking into his music. With just one mixtape and a handful of remixes, I think I've found my new favorite Chicago rapper.
Recommended tracks (in order): "Ice Cream Truck," "Game of Pain," "Air Jordan," "Let that 40 Bang," "Breakin' Rules," "All I Ever Wanted," "Holy Ghost," and "Planet of the Apes."