Post by StevePulaski on Aug 27, 2015 22:59:58 GMT -5
Alice in Wonderland: An X-Rated Musical Comedy (1976)
Directed by: Bud Townsend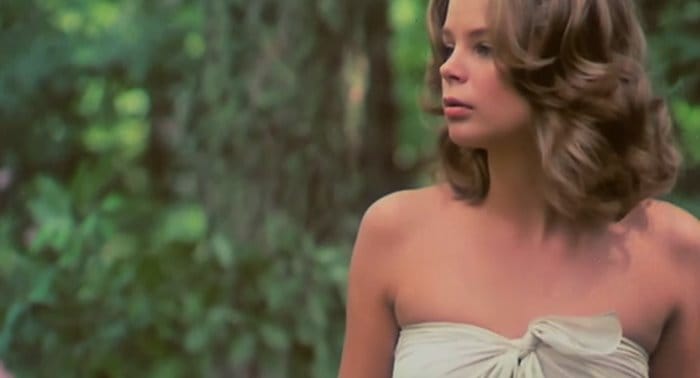 Kristine De Bell.
Rating: ★★½
Alice in Wonderland: An X-Rated Musical Comedy
may indeed be one of the earliest examples of erotic fan fiction to ever surface. Receiving a considerably wide release in the late 1970's, the film became one of the defining pornographic parodies and continued to capitalize on the pornography craze in America during that time. To this day, it's something so quirky, as an idea and a feature-length film, that it practically begs you to watch it just by its title and its cluttered poster of sex-starved misfit characters.
The film revolves around Alice (Kristen De Bell), who falls asleep while reading the classic novel
Alice in Wonderland
and wakes up in a sexual wonderland, guided by the white rabbit (Terry Spelman) and other classic characters, now bearing some sort of sexual attribute to their personalities. Alice, who prides herself on being a good-natured woman, very dainty and puritanical, has never before seen such sexual freedom and advances run rampant, and the film chronicles her sexual awakening in the land as she assists other characters, such as Humpty Dumpty and the Mad Hatter, in their own personal escapades.
Kristine De Bell is a real find of an actress here, largely because B. Anthony Fredericks gives her character something to do rather than owning the title of the key masturbatory fantasy in the picture. De Bell's Alice is placed into one incredibly silly and deranged setpiece after another, yet through all this insanity, she not only keeps a straight face, but she keeps her persona straight too, naive and well-meaning. Her charisma as an actress is fairly strong and, much like Fredericks' silly screenplay, she's given a lot of creative range as an actress.
Despite bearing an "X" rating, a rating no longer used in the United States, the film is pretty mild - it's no more graphic than
Flesh Gordon
(which was produced by
Alice in Wonderland
producer William Osco two years before) because it largely focuses on the story structure and trying to parody something in a memorable way. Pornographic films like these are interesting species largely because they are not focused on the endlessly and emptily scored/shot sex scenes, but more concerned with infusing some cheap, sexualized humor into the screenplay.
Both this and
Flesh Gordon
are far more innocent pictures than you probably think, but both have the same problem of failing to be very erotic. Because they are bent on setting up a story and characters that mirror their original source material, they falter in the respect of trying to be erotic in addition to making an admirable attempt to cater to more people than those who would frequent a Grindhouse theater on a lonely Wednesday evening.
Alice in Wonderland: An X-Rated Musical Comedy
also features a handful of songs composed for the film and even those can distract from the eroticism the film wants to create but can't consistently maintain.
Still, much like
Flesh Gordon
, there's fun to be had here. De Bell is a real find of an actress, the set decorations are largely attractive, and the songs provide for momentary diversions of plot and point-A-to-point-B structure. This is another one of those see-it-to-believe-it-pornos that would only benefit from being shown on a projector in a room equipped with about two dozen well-worn seats, a sticky floor, an incense odor, and a few shady characters down in front.
Starring: Kristine De Bell, Terry Spelman, Alan Novak, Bradford Armdexter, Gila Havana, and Ron Nelson. Directed by: Bud Townsend.