Post by StevePulaski on Sept 24, 2015 20:22:45 GMT -5
Almighty DP 2 (2015)
By: Chief Keef & DP Beats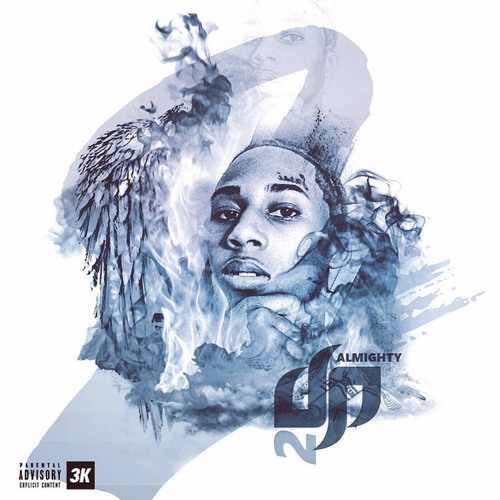 Rating: ★★★
The first collaboration between producer DP Beats and Chicago-born rapper Chief Keef warranted a bloated result that, like most Keef mixtapes, crumbled under its lack of substance and downright stupid lyricism. Even DP Beats' instrumentals, which were, above all, the selling point of the mixtape, failed to impress on any level other than standard trap and 808s fare. Despite all this,
Almighty DP 2
, the unexpected sequel mixtape that was announced and released in the same month span, is actually more impressive than Keef's latest project,
Bang 3
, which was heavily hyped over the course of two years only to adequate results.
Almighty DP 2
is the side of Chief Keef I've been begging for; a side that forgoes childish lyricism in favor of experimental styles, bonafide drill anthems, and throwback vibes to his 2012 debut album
Finally Rich
. Anchored by DP's production, which has transcended from being indistinct and rather lackluster to quietly experimental and nuanced,
Almighty DP 2
winds up being a pleasantly concise, winning work from an artist who has been in need of a comeback for quite sometime now.
The mixtape opens with probably its most frightening song, "Ain't Even Know," which struck a chord with me when I first heard it and its effect has been unshakable since. It's the song's equal parts haunting-instrumental and Chief Keef's heavily manipulated voice, which sounds like the result of blending autotune with a vocoder, creating a mechanical, robot-effect. The most haunting part about this song is Keef's chorus, which sounds so robotic it's straight out of science-fiction. Through all its experimentation and inhuman sound, "Ain't Even Know" kicks off this mixtape in a surprisingly assured manner.
Following the opener are songs like "Bags," which, judging by the first verse, is just your average Keef song that has him rambling and spouting incoherencies left and right, until, he switches things up on us, singing most of the second verse by spelling things out, adding another layer of complexity to the song. Granted if you're a hardened Keef fan, most of these words will be fairly easy to figure out, but it's still nice to see a change of the pace for a rapper that can sometimes make mixtapes over twenty tracks long boasting the same dreary sound. Followup songs like "Fever" and "Flu" concern Keef's continued lean addiction (despite assuring his fans he's been clean of the famous concoction) in a way that, for once, doesn't seem like repetitive and endless strolls down a lane of idiocy, "Shorties" has Keef shouting out the unique qualities of his crew (Fredo is in the cut, Tadoe has the thots, Tray Savage has the Mac), even including a tribute to his fallen labelmate Capo, and "Where" is a clever and unique track, heavy on the snare and drums in its instrumentation, with Keef, yet again, using heavy vocal manipulation that, for some bizarre reason, works very well here.
Furthermore, tracks like "Bouncin'" and "Facts" are cuts off of the second and first part releases of
Bang 3
, respectively, and only appear here being the fact that they were indeed produced by DP. Even with the cross-releasing, it's hard to complain when the songs are at least strong additions to Keef's mile-long discography and continue to show DP's evolving talent with the trap genre.
Almighty DP 2
may not be the most addicting release of the year (it doesn't have that replay value or bear that insatiable urge to revisit other than maybe three songs on the entire mixtape), it's still a winning crossover that actually has me hoping for one more installment to conclude this potential trilogy.
Recommended tracks (in order): "Ain't Even Know," "Bouncin'," "Shorties," "Bags," and "Facts."