Post by StevePulaski on Dec 5, 2015 11:50:57 GMT -5
Gunz N Roses (2015)
By: Montana of 300 & Talley of 300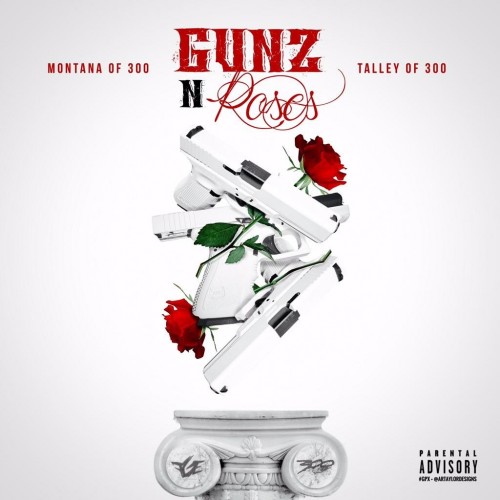 Rating: ★★★½
2015 has been an utterly amazing year for Chicago upstart rapper Montana of 300; after achieving solid success from his debut mixtape
Cursed With a Blessing
, which I still bill as one of the strongest mixtapes I've yet to hear, his music video remixes of big hits like Fetty Wap's "Trap Queen," Bobby Shmurda and Rowdy Rebel's "Computers," and O.T. Genasis's "CoCo," all meriting view counts well into the multi-millions, making Montana of 300 one of the only rappers today with over one-million music video views and no formal record deal, and a steadily growing, loyal fanbase that is continuing to support his newest releases and attend his shows. Montana's self-made, Fly Guy Entertainment (FGE) brand has soared for him, and he's taking his posse of close friends and young rappers, including Talley of 300, $avage, and JReal, with him for a ride to the top.
Gunz N Roses
, the latest release from Montana, which can be streamed and downloaded on Live Mixtapes or purchased on Amazon MP3, Google Play, or iTunes, is a throwback collaboration with Talley of 300, his long-time friend and musical partner, to the mixtape the two made years back with the same title. Living up to its title in terms of giving us hardened drill/trap tunes, in addition to more soulful pop ballads to expel emotions and deeper feelings of rising to the top,
Gunz N Roses
serves as a celebratory victory lap for two young artists, who have come a long way and still have a long, bright road ahead of them.
The album opens with "New Storm," one of the many "origin" stories to be found on the album, which helps paint the picture of Montana and Talley before they were rap superstars. Bass-heavy beats and synthesizers cloud the beat as Montana does what he's known for - unflinchingly spitting complex rhymes while using a variety of different flows. The same thesis is used for "Never Gave Up," the album's tour-de-force for both men, especially Talley, who delivers a verse that involves celebrating his talents and sticking it to those who felt he'd never amount to anything, specifically his schoolteacher. "Never Gave Up" is the epitome of a terrific tune by the men because it carries out a concept with an infectious hook and emotionally honest delivery, a recipe that Montana, when he chooses to include a hook in his music, has never failed at.
In the midst of all the emotion, unapologetic tunes boasting violence and murder find themselves sprinkled on the album quite frequently. "Ridin Wit the Choppa" features the same kind of thumping instrumentation as the album's opener, only its core concept has Montana and Talley bragging about keeping an automatic assault rifle on that at all times, whether or not they're in the warzone that is Chicago. Both of the album's singles are also tried and true drill bangers, with "Gas Mask" showcasing Talley's ability to spit more conventional trap flows with the same kind of zest and talent he showcases on nearly all the tracks he's on, and "You Know" brings a different sound to both Montana and Talley's repertoire, one that is much slower but still as rowdy as ever.
The duo's FGE crew gets some love on "Fge Cypher," where Montana's young upstart $avage, who is just eighteen years old, handles the album's opener to great effect here, showing incalculable promise for such a young rapper, in addition to featuring two of the best verses from Montana and Talley. "Go Crazy" tackles the formula of having that aforementioned infectious hook, with Montana using vocal enhancement, per usual, to great, melodic effect that brings a whole different aura to the album, "Them Games," and "Sprung" mirrors
Cursed With a Blessing
's sleeper track "Play Doe" in the best possible way, with a club-heavy sound that doesn't beg you to hit the latest dance and even has some very romantic, sexually explicit lyrics to wrap up the entire work. The only downside to the album is most of its instrumentation fail to excite, or bear some kind of distorted element to them because of the vocal enhancement (see "Them Games" or "Ridin Wit the Choppa" for prime examples).
Though we were originally supposed to get this release back in September, with Montana of 300's sophomore album
Fire in the Church
originally set for release on December 2, 2015 (now delayed until May 6, 2016),
Gunz N Roses
is an absolute delight all the way through. Talley of 300 has gone from being a background figure in most of Montana's music, eclipsed by the self-proclaimed "Rap God"'s rare and refined talent to asserting his own presence from the first track, and Montana maintains his quality music and his willingness to color outside the lines and never get too comfortable. This is more than a strong holdover until Montana's
Fire in the Church
drops, or Talley's next mixtape releases; it's a strong and honest hip-hop collaboration, built off lyrics and flow instead of gimmicks and repetition.
Recommended tracks (in order): "Never Gave Up," "Sprung," "Fge Cypher," "You Know," "Rock n Roll," "Hittaz," and Them Games."