Post by StevePulaski on Sept 19, 2016 14:30:27 GMT -5
Bridget Jones's Diary (2001)
Directed by: Sharon Maguire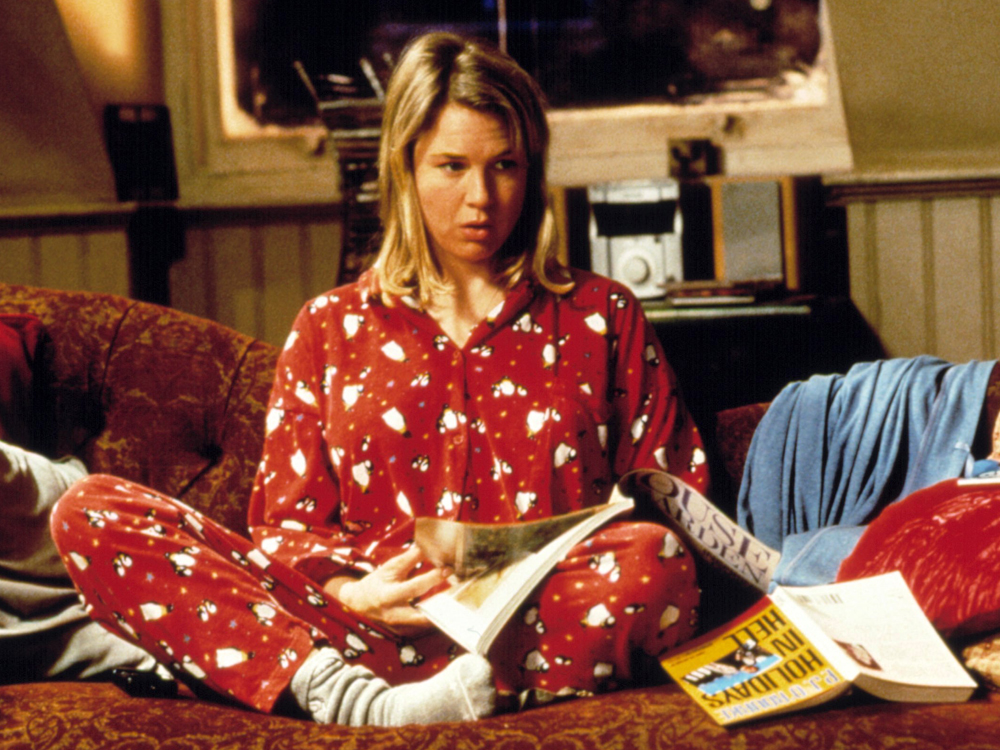 Renée Zellweger is Bridget Jones.
Rating: ★★★
Bridget Jones (Renée Zellweger) is a 32-year-old spinster, who ostensibly lives off of junk food and alcohol as she meanders her way through a job where she's objectified by her boss and the stress and heartache over a nonexistent dating life. Her parents keep trying to subtly match her up with Mark Darcy (Colin Firth), a plain barrister with an affinity for Christmas sweaters, despite the fact that she can't keep her eyes off of her aforementioned boss Daniel Cleaver (Hugh Grant). Bridget works for a book publishing company, and since she started, she has been casually flirting with and playing along with the advances of Daniel, to the point where it simply become a fun game to play.
The two frequently exchange saucy emails before developing an affair of their own. In the meantime, Bridget uses her diary to take control of her life. She wants to quit smoking, quit drinking, quit eating too much, and finally, quit living a dour single life that leads to nightmares of her dying fat and alone.
Zellweger throws herself into the often lampooned role of a woman steadily approaching middle-age single and lacking confidence in everything she does. She takes a caricature and turns her into an amiable, instantly likable soul who finds comfort in the idea of maintaining a romantic relationship. Bridget has been subjected to being single her whole life; she has struggled with finding a man on top of the fact that she's essentially watched everyone around her get married, raise children, and pressure or berate her with questions, interrogating her about her lack of a partner. She's spent enough time along to know that's not what she wants, and she can't be burdened by the nonsense of self-help anymore that is predicated upon the idea of loving yourself any longer.
As a result, it's as if Zellweger's own personal feelings and emotions are exemplified nicely into her character, making for a film that quite possibly tags a great deal of personal bases all while telling a cohesive story. Meanwhile, Colin Firth and Hugh Grant aren't given flaccid roles of being immature men dueling over a woman. For that matter, they're laidback, more controlled, and the trio of screenwriters (two of them men, shockingly) keep this odd love-triangle as downplayed as they possibly can so as not to evoke any kind of unnecessary silliness into the screenplay.
Whatever way you want to slice it,
Bridget Jones's Diary
still fits the bill of a romantic comedy, but it's a tad more sweet and earnest than the genre-works you're used to finding. It's not one of those films that has its electric cast attempt to lift up its lackluster writing out of the bowels of mediocrity, but one that gives them strong material to work with and an aura of romantic on which to capitalize.
Starring: Renée Zellweger, Hugh Grant, and Colin Firth. Directed by: Sharon Maguire.