Post by StevePulaski on Jan 6, 2017 14:52:17 GMT -5
Take Me to the River (2015)
Directed by: Matt Sobel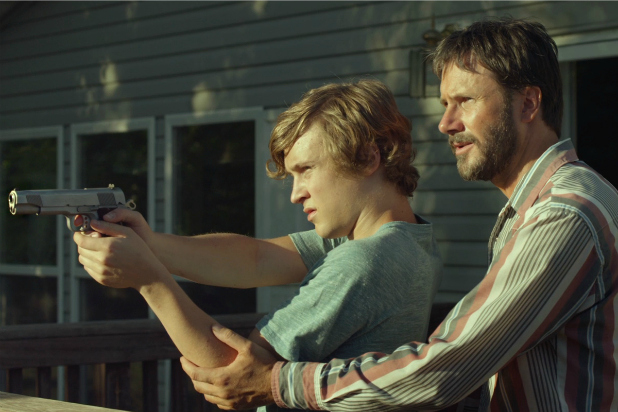 The young Ryder (Logan Miller) learns to shoot from his uncle Keith (Josh Hamilton) in
Take Me to the River
.
Rating: ★★★★
Matt Sobel's directorial debut
Take Me to the River
is a deeply unsettling tone-poem of a film, beautifully nuanced with mystery and secrets. It takes the most unassuming setting of a family reunion and mixes in tension and past occurrences, as if it's stirring a melting pot of unresolved drama and history that's going to rear its ugly head to the audience in a slow, conservative manner.
The film opens amidst a long car-ride, with the seventeen-year-old Ryder (Logan Miller) in the backseat, while his mother Cindy (Robin Weigert) and father Don (Richard Schiff) are up in front. Ryder plans to use this reunion as an opportunity to come out to his less-than-accepting mother's side of the family, despite his mother's frequent warnings about avoiding any kind of touchy subjects with the family. Upon arrival, Ryder's nine-year-old cousin Molly (Ursula Parker) immediately takes interest in him, and the two go off to the family barn to sit and talk on some hay bales. The last thing we see is Molly request Ryder's assistance in helping her touch the birds' nest in the raptors of the barn.
The next thing we see is Molly running out of the barn, screaming and crying with a bloodstain on her blouse. The family is thrown into a sea of quiet judgment, only worsened by Ryder's vocal and demeaning uncle Keith (Josh Hamilton), who assaults Ryder and prevents Cindy, a physician, from even looking at her. This prompts many dark secrets to be aired over the remaining course of the film, such as why Cindy was able to obtain a college education while Keith has been stuck in the countryside his entire lie.
However, the tension escalates when one of Keith's younger daughters arrives at Ryder's grandma's house, saying that uncle Keith would like to offer Ryder over for dinner to apologize to him and get back in his good graces. Ryder accepts the invitation and what unfolds is a family dinner more awkward than that in
Guess Who's Coming to Dinner
.
The gracefulness of
Take Me to the River
's narrative pace makes this film so enticing. It doesn't feel the need to expound upon the details of the characters' lives by way of a monologue, or, for example, Ryder and his mother having a tender moment (a moment we know is tender because the embellished synths of the score confirm it). Instead, the closest thing to that particular moment occurs when Ryder is sleeping and his mother sneaks into his room to sleep on the floor beside him. Ryder, having just experienced ridicule at the reunion, doesn't want his mother in the room, but through he body language and responses, it's as if she
needs
to be by his side. What is she hiding?
Many filmmakers, and film critics, for that matter, love dissecting and exploring what it is characters say and how what they say can be interpreted.
Take Me to the River
is a film about those things that are unsaid but mutually known to multiple parties, and the challenge of communicating that starts with the challenge of drawing characters as dramatically complex and real as both Cindy and Keith. In particular, Keith is a character we see in two dichotomous moments; when we first see him, he's an unpredictably violent and reactionary man towards his nephew, but the next, he's calm and composed with his family as he tries to apologize to Ryder. He then teaches Ryder how to shoot a gun and gives him alone time with Molly, so we know that he trusts him. As we see Ryder and Molly's relationship with one another blossom, the climactic point doesn't explicitly tell us what occurred in the past, yet gives us a good idea, and a great deal of room to interpret in many different ways.
Ambiguity is not necessary for a great film, or even a good film, but fewer great films have been made without a little bit of it compared to those without. First-time writer/director Matt Sobel is well aware of this, and for eighty minutes, crafts a remarkably, almost breathtakingly, tense affair about the anxiety and pain things that are left unsaid can so easily bring.
The exhaustion you may feel at the end of the admittedly short eighty minutes of
Take Me to the River
is what happens when a film is so immaculate in its emphasis on unsettling suspense that it makes you physically tired trying to handle it all. This is a film as tense and unflinching as any horror film I've seen in years, finding ways to make what's unsaid and not communicated just as intriguing, or even moreso, than anything that is said. Classifying
Take Me to the River
, while a challenge, keeps consistent with other films of the era, such as
Gone Girl
, in that family and domesticity prompt a new kind of horror in cinema.
Starring: Logan Miller, Ursula Parker, Robin Weigert, Josh Hamilton, and Richard Schiff. Directed by: Matt Sobel.