Post by StevePulaski on Mar 24, 2017 20:55:12 GMT -5
O.C. and Stiggs (1985)
Directed by: Robert Altman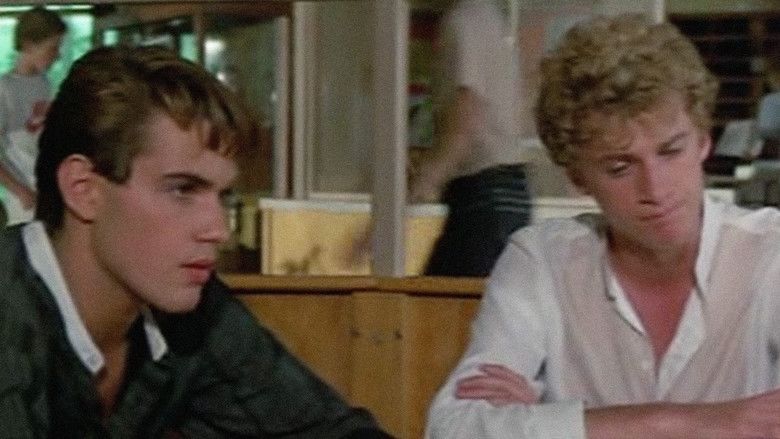 Neill Barry and Daniel H. Jenkins in
O.C. and Stiggs
.
Rating: ★½
Robert Altman was a filmmaking maverick when it came to style and composition for his storied filmography. A darling of the Academy Awards and one of the most noteworthy directors of the New Hollywood Era in film, Altman pioneered a heavily stylized approach to cinema, complete with sharply framed shots that encased a detailed world within each moment of the larger film. His craft will likely go on to be remembered for decades to come.
In contrast,
O.C. and Stiggs
, the director's twenty-fourth film, will not be remembered, and I'd go as far as to assume it was barely even known when it received a low-key theatrical release in 1987 and 1988 - four years after it was filmed. The film is a gross miscalculation despite being conceptually very intriguing - a stupid movie smartly done, placing thematic elements of class difference and social theory in the foreground over teen debauchery. The result could've been something like
Beavis and Butthead
if the characters didn't spend all their time "huh-huhhing" over trivialities.
The material is so far beyond Altman's convictions that it was inevitably going to be lopsided in favor of its themes over any kind of
Porky's
-style antics, which I would've been okay with if the film was the least bit coherent. The titular dopes are spawned from a series of short stories published in National Lampoon magazine, so right there should allude to the fact we're not working with property beyond the level of
Saturday Night Live
bargain-basement entertainment.
The film revolves around the title characters, played by Daniel H. Jenkins and Neill Barry respectively, two Arizonan students who spend their days swooning over "sluts" and tormenting the family of Randall Schwab (Paul Dooley), a racist and bigoted real estate mogul who has just cost O.C.'s grandfather (Ray Walston) his mortgage (something that isn't particularly well-explained in the film). O.C. and Stiggs are sure to make the Schwab family's life a living hell as they go above and beyond to taunt Randall and his heavy-drinking wife Elinore (Jane Curtin).
The two spend much of the film slumming around town, talking in circles about social politics in a more roundabout way than politicians, and carrying out their band of pranks. The two fix the school water-fountain to soak Randall Schwab Jr. (Jon Cryer) when he goes to get a drink, sabotage his daughter's wedding by having Jr. show up with a machine gun he thinks is a Nerf product, and, in the film's opening scene, steal the family's lobsters just as they're about to be grilled. The message the two dolts are trying to send is that this is a family that has gotten to their level of popularity and success by walking all over people like them and their family, so it's time for the lower class individuals to rise up and take a stand against classism.
Such material would work wonders if the two brands weren't so dichotomous. Crossing a daft buddy comedy formula with a deeper narrative regarding the perils of financial inequality and lack of opportunity based on class is something I'm not sure many filmmakers would be able to tackle and tackle effectively. In the hands of Altman, it feels stiff and unworkable, with his meticulously detailed and symmetrical framing constraining the lunacy that should be taking place. This is the weirdest case I've seen where presentation and stylistic choice create an incongruous experience that renders both separate pieces - because I do believe they are separate - of the film void and almost wholly vapid as a result.
O.C. and Stiggs
is an interesting failure of the sorts, booned in theory by a terrific concept but smothered by a director whose influence does not work this time around. It turns a property that most would've made into a middling, maybe marginally successful comedy into a terribly overwrought, unfunny slog only noteworthy due to the abundance of cameos: Cryer,
Sex and the City
's Cynthia Nixon, Melvin van Peebles as a socially conscious wino, and even Dennis Hopper basically continuing the character he played in
Apocalypse Now
(he even has the film's only funny line - "They all look the same!" he exclaims when he enters the Schwab household ready to attack at the end of the film) all are given their own moments.
The film sits in the present the same way it sat in the past, I'm sure - as a curious deviation from the norm that crashes and burns shortly after takeoff. Some might be bold enough to give it credit beyond what little I have but I'm more confident few will enjoy it on a level that's not ironic.
Starring: Danny H. Jenkins, Neill Barry, Pat Dooley, Jon Cryer, Ray Walston, Jane Curtin, Cynthia Nixon, and Dennis Hopper. Directed by: Robert Altman.