Post by StevePulaski on May 24, 2017 2:31:52 GMT -5
Don't Doubt the God (2017)
By: Montana of 300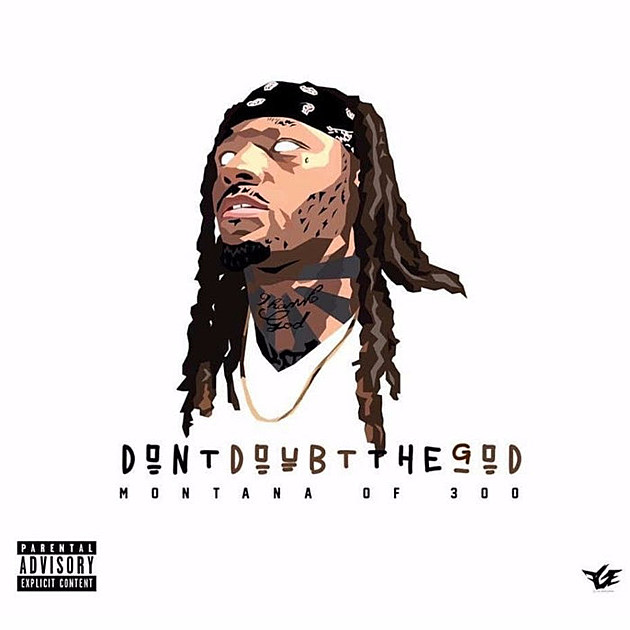 Rating: ★★★½
"I am to my fans what Tom Brady is to the Patriots"
- Montana of 300, "God Strong."
Montana of 300's second solo studio album arrives not long after the Chicago-born rap-titan promised that every year, on May 20th, he would release one of the greatest albums the hip-hop genre has ever seen. He's promised an album called
Rap God
- named after his self-imposed nickname - arriving on the faithful day in 2018 and another called
Pray for the Devil
in 2019. Over the course of the last two years, Montana has climbed my list as my current favorite rapper working today. His versatile, breakneck flows are unmatched by even veteran spitters in hip-hop, his treatment of popular songs by way of his famous remixes is uncanny and worth the wait, and his songs are laced with metaphors like a Nike shoe.
Montana's debut album last year,
Fire in the Church
, was a concept album stuffed with tracks that showcased his range as an artist - from drills, to confessional ballads, to R&B love songs, to conventional trap efforts - that didn't one-up his debut mixtape
Cursed With a Blessing
in replay-value, but ushered in a new standard for independently released hip-hop. Since then, he's dropped
No Surrender, No Retreat
, a proper showcase of his "FGE" labelmates, many of whom present on
Don't Doubt the God
, as well as remixes to Young Young MA's "Ooouuu" and Rae Sremmurd's "Black Beatles." He's a workhorse and one evidently unwilling to let a day pass by that isn't worth honing his craft or making time for his family.
Don't Doubt the God
may not reach the heights set by his previous releases, and perhaps falls short of offering higher standards or different inclusions in his already established craft, but despite that, it still is almost guaranteed to be one of the best hip-hop releases of the year.
Unlike
Fire in the Church
, which firmly laid the groundwork for Montana's devoted relationship with God,
Don't Doubt the God
, despite the title, isn't the overarching theme here, although his influence is unbelievably felt in the album's dizzying opener "God Strong" and the ambient freestyle "Godly," which closes the album. The opener has Montana exercising his lyrical jobs over an electric, shapeshifty beat by producer SuperMarioHer, with memorable lines that continue the rapper's streak of opening his projects strong, sitting comfortably alongside "Slaughterhouse" from
Cursed With a Blessing
and Heat Stroke from
Fire in the Church
. The album persists on with a surprising amount of softer ballads, such as the album's sole single (at this time) "Dirty Dancin'," which shows Montana's love for name-dropping actor Patrick Swayze, former NBA player Tracy McGrady, and Dallas Cowboys quarterback Dak Prescott. The song is fun, if softer, for Montana's normally hardened catalog.
The album is a bit too full of love songs, but it's a good thing that most of them are pretty impressive. "Plug Love" and "Love the Rapper" are exactly the kind of hooky, marginally gooey tracks that Montana makes that most casual listeners don't appreciate in their entirety as they (understandably) demand more hardcore music from the rapper. These songs are a testament to Montana's talent in crafting a song, and the fact that they remain explicit as well as dirty in a sexual sense reminds me of how "Shawty" rapper Plies mixed the gangster and the lover image when he stormed on the scene in 2007. These songs, while exhausting formula by the time the forgettable "Like That" and the over-produced "My Dough" roll around, do provide the listener with a bit of a muchness, they nonetheless function as true showcases of Montana's versatility.
But to those demanding listeners, I'd be shocked to hear that the three-and-a-half-minute banger "Busta Rhymes" doesn't quench your thirst for bars. This song showcases my favorite side of Montana; the kind that leaves your head spinning from Montana's quick-witted bars and the ethereal production from Charisma 808s, one of Montana's frequent in-house producers and collaborators.
"You can't get me to change
You got to call collect
Nike just like me, my nigga, I am a walking check
I'm more than blessed and more calculated than architects
I'm who they call the best
Flew from a falling nest
If I feel y'all a threat
We outside of y'all address"
All I can say is look for a remix of "Busta Rhymes" on my upcoming mixtape
3 Much
.
Montana's trustworthy team of young but talented rappers such as Talley of 300, $avage, and No Fatigue show up for the obligatory "FGE Cypher," which has $avage referencing Future and dolphins in the most clever way and Montana finally giving his fans a dose of what a possible "Jumpman" remix would've sounded like before treating us to some of the funniest bars of his career ("Like cheese on top of chips, I had to tell that bitch I'm nacho man"). The xylophonic melody of "I'm the Man" precedes the track almost in effort to lighten the mood before such a doomy track commences.
As with any Montana release, it's almost imperative you relisten to
Don't Doubt the God
two or three times in order to catch all the tricky metaphors Montana buries in his music. Another reason for Montana's massive success on the independent and marginally mainstream circuit has been his ability to give his listeners something for which to dig and inspect his music. Fans feel rewarded when uncovering a layered line that ties together people like rappers Future and Desiigner without explicitly saying so, or intricately covering up fancy wordplay ("I've been bald (balled) like Isaac Hayes).
Don't Doubt the God
, as strong and as formidable as it is, should've been more of a statement, I'd argue. Montana is still using the same freeing, somewhat indistinct production, arguably in order to achieve his wide-range of flows and in hopes to place specific focus on his bars and snappy wordplay. As strategic as that is, it doesn't leave much for listeners demanding infectious production on which to fall back, despite the subtle but commendable strengths of Charisma and Snow God of FGE coming through on several tracks (Snow God's instrumental really ties together "Plug Love" extremely well). The album's finale "Godly," as stated, however, forgoes a beat and has Montana delivering emotionally honest lines in the form of a church confession or an impassioned sermon that demands your full attention and your desire to learn.
Montana brings the variety, the metaphors, the lyrical genius, and the craft once again, even if things such as production and structural development seem to (hopefully) be saved for the appropriately and ambitiously named
Rap God
album, which I can only hope materializes as promised.
Recommended tracks (in order): "God Strong," "Busta Rhymes," "I'm the Man," "Godly," "Plug Love," "Love the Rapper," and "FGE Cypher Pt. 4."